Independence doesn't mean you aren't grounded by strong roots.
Need an idea for Lenten almsgiving?
Help us spread faith on the internet. Would you consider donating just $10, so we can continue creating free, uplifting content?
Make a Lenten donation here
Independence is a virtue that I strive to cultivate in all my children, but particularly my daughters. I know all too well how the burden of parenting many children can grow too heavy for a husband (or wife) if the other spouse relies on him (or her) for everything. It took me years of marriage before I developed enough independence to lift the load from my husband, and I don't want my daughters to have the same experience.
Read more:
Kids Enjoying Being Kids
So I was a little unnerved when I read this post by Judy Mollen Walters, in which she describes the shock and hurt she experienced when the daughter she raised to be fiercely independent decided to marry a British man and leave her mother behind — forever.
People keep telling me that I will now "have someplace great to visit." They tell me about FaceTime and texting and videos, as though I've never heard of them. But there is nothing like the feeling of knowing that, in a way, you are losing your child, and you are losing your grandchildren, too. When I chose to support independence for my daughter, when I knew it was the only way I wanted to raise her, I never thought about the possibility that she might not come back.
My mom knows how this lady feels. I'm the first child from two families of 5th-and-6th generation Texans to leave our home state. Everyone always expected us to come back eventually, including me, but that's looking increasingly unlikely.
It's hard to be raising kids so far from their grandparents, aunts, uncles, and cousins. We're not a 13-hour plane ride, but we are a 20-hour drive away. I miss them often, especially my mom, but I've settled into the idea that life has brought us to this little town in the swamp so we can learn to make a home somewhere else for a while — and in the process, learn what independence really is.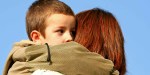 Read more:
The one thing good parents do that harms their children


See, my parents tried to instill a sense of independence in me as well. I just never fully understood what that meant. I thought independence meant being headstrong and rebellious and slightly indifferent to familial attachments, and I was good at all those things.
But despite their best efforts, when something went wrong I went running right back to my parents to pick up the pieces. When I got married, I did the same thing with my husband. It took me a while to learn that true independence isn't about doing what you want — it's about having the wisdom to see what's right and the strength to choose it and see that choice through.
Independence means you don't necessarily need to rely on someone else when times get hard, but it also means that you grow to understand how much your loved ones have given to you, and how much of the person you have become is a result of their love and sacrifice.
I don't know if we'll ever move back to Texas, but I do know that we'll never truly leave our families behind forever. Wherever we go, we'll carry them with us — in our thoughts and in our deeds, in the stories we tell our kids and the lessons we try to teach them. They're a part of us, and they've shaped the people we've become. We, in turn, will pass them along in the way we shape our own children.
If my daughters leave one day for another state, or country, or even continent, I'll miss them a ton. I would hate to be far away as they start their own families. But I hope that the lessons I teach them over the years will help them grow into a true independence … not a freedom without roots, but a freedom to reach for the sky because of the strength of their roots.