Being present isn't enough. You must develop solid, affectionate bonds.
Need an idea for Lenten almsgiving?
Help us spread faith on the internet. Would you consider donating just $10, so we can continue creating free, uplifting content?
Make a Lenten donation here
Attention fathers: Live in such a way that, when your child thinks of loyalty, honesty, integrity, justice, respect, work, faithfulness, service, and charity, your image is what comes to mind.
Read more:
What Job Can Teach us About Fatherhood
Although Western society has generally given greater importance to the role of mothers, the father is just as important in the lives of children as their mother, because fathers play a unique, untransferable, and fundamental role in their children's emotional, psychological, and social development.
Dad, I want to be like you when I grow up!
When fathers live out their paternal role responsibly, and are emotionally and physically present throughout their children's lives — especially at key moments of their development — their children have greater tolerance for frustration, greater self-confidence, more self control, and healthier self-esteem.
Not only is it necessary that fathers be present; it's vitally important that they create solid affectionate bonds with their children. That is to say, they must be active fathers, always attentive to their children's needs. Sometimes, that will mean doing things for them; other times, that will mean giving them the tools they need so that they can find solutions for themselves. Still other times, it will consist of consoling them and giving them a pat on the back with the unspoken message that "Everything will be okay because I'm with you," which makes them feel safe.
Developing a positive relationship with their father helps children to grow up to be well-balanced, confident adults. The sensation they get from knowing they can count on their father to support them is simply beyond words.
All children deserve to feel wanted and accepted by their fathers, in addition to their mothers. Acceptance proceeds from the will; desire, from feelings. If a child perceives rejection, it can hinder his or her development. And it won't be so much because of not having been wanted, as because of not having been accepted. Accepting fatherhood and accepting your child as an individual are both necessary and important for the healthy development of children individually and socially.
Read more:
What Evelyn Waugh can teach us about fatherhood
Here are some wrong ways fathers accept or reject their children:
You reject them, and become an authoritarian father and a tyrant. The message you send your children is that they shouldn't bother you, or that you think it would have been better if they had never been born. Or, you reject them and become an indulgent, indifferent father: your children's "colleague." The message you are giving them is that they are alone and should fend for themselves, because they aren't your priority.
You overprotect them, becoming an authoritarian, perfectionist father. The message you are sending your children is that they must fit into your mold and be like you. Your children feel that your love is conditional. Or, you overprotect them, turning into an indulgent, narcissistic father who idolizes his own offspring. The message you send your son or daughter is that there is nobody like them: they are your idol. Although it would seem a contradiction, children in this situation develop fragile self-esteem, without solid foundations.
Actions speak louder than words
If there is anything that children observe about their fathers, it is how they work; that is to say, their father teaches them the virtue and human value of labor. A father needs to make a great effort to do his job well, whatever it may be. The way a father does his daily duties will either build up his children's image of him, or damage it; he will win either their respect and admiration, or the opposite.
The way he understands work — doing it with love and commitment, recognizing its dignity and value, and imbuing it with his own personal style — gives him a solid foundation for exercising his paternal authority.
Children are intelligent, and if their image of their father's work — based on family conversations or on his attitude towards his own job — is negative, the consequences of this bad example for their education will be noxious.
The effect will be similar if children realize that what their father says doesn't coincide with what he does. Inconsistency undermines authority, and without authority, it's hard for there to be admiration, and consequently, respect.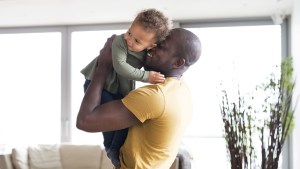 Read more:
The research is in: Fathers are not replaceable
For any child, nothing gives you more strength than knowing that you are loved, accepted, and protected by the man you most admire, your superhero: your father. This feeling of protection makes children go through life with greater confidence, moving forward with self-assurance.
In the particular case of a father-daughter relationship, if a young woman feels abandoned by her father, then when it comes to choosing a husband, she is unlikely to know how to choose, because she will feel an unconscious need to fill that emptiness left by her father. Therefore, instead of looking for a life companion with whom to share her future, she will be looking, in every man she dates, for a father to protect her. This is very dangerous, and it will be difficult for her to establish stable romantic relationships.
So, mothers: We need to let fathers carry out their role fully, as husbands and fathers. It is important for mothers to give them space and not interfere with that relationship, even if they feel that they "would do it better than he does." A father's role in his son or daughter's life is irreplaceable!
This article was originally published in the Spanish edition of Aleteia, and has been translated and/or adapted for English readers.