Most people don't know that Montessori schools are inherently Catholic, designed that way by their devout founder.
A few weeks ago, the Catholic News Agency reported on a new Montessori school opening in Denver, Colorado, which would be influenced by the Byzantine Catholic tradition.
Pauline Meert, who co-founded

Sophia Montessori Academy

along with Irene O'Brien, said the two "wanted to combine Montessori and Catholicism because it just made so much sense." Meert said the school aims to help children fulfill their God-given potential, and that "the Montessori message really makes that possible for each child, not just for a classroom as a whole, but for each individual."
Having had one child in Montessori and two in the Catechesis of the Good Shepherd program, I understand how seamlessly the Montessori method fuses with Catholicism. But what most people don't know is that it was designed that way, by the devoutly Catholic Maria Montessori.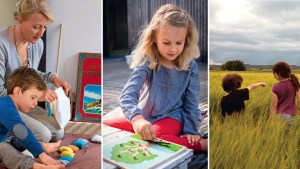 Read more:
Can't afford a Montessori school? Try the toys!
Montessori was the first female medical doctor in Italy, and her early work focused on psychiatry with a particular interest in education. Because of this interest, she was appointed co-director of a new training institute for special education teachers where she began experimenting with new ways of teaching special needs children. Montessori believed in careful observation and adjusted her teaching methods according to the ways the children were learning.
Her child-centered approach to learning was so successful that it caught the attention of Roman officials, who offered Montessori the chance to open a new childcare center in poor, inner-city Rome. This became the first Casa dei Bambini, the "children's house," where she began to develop a new way of teaching children based on observing and understanding the child.
Maria Montessori wrote extensively on the innate religiosity of children, culminating in her book on developing the spiritual life of the child, The Child in the Church. She strongly believed that education should help cultivate the whole child — mind, body, and soul.
Read more:
An Opportunity to Choose: Empowering Parents in Education Reform
Two of her greatest disciples, Sofia Cavalleti and Gianna Gobbi, even developed a specific catechesis program based on Montessori's work and writings called The Catechesis of the Good Shepherd. This program, and Montessori education as a whole, is predicated upon the fundamental understanding that children are not empty vessels to be filled, but creatures of God who need guidance and care. Maria Montessori expressed it thus, "We must not just see the child, but God in him. We must respect the laws of creation in him."
In fact, the Catholic nature of Montessori education is so robust and so apparent that several popes have wanted all Catholic schools to become Montessori schools. Benedict XV even asked Maria Montessori to create a universal syllabus for Catholic schools, but died before he could implement it. A few years ago, The Catholic Thing did an extensive profile of Siena Academy, the only parochial Montessori school in the country, highlighting the fact that Montessori education is inherently Catholic.
"The way of teaching in a Montessori school is Catholic – centered on the person," she said. "The conventional method is centered on the curriculum, not the person." Kathy O'Brien, a part-time teacher at Siena Academy, gave an example. "Montessori education encourages inner control by the child, rather than external controls over the child. For example, one curriculum used in conventional education says to set a timer for children working a math lesson. That is an external control that doesn't help inner development of the child's will. One child may do four problems in an hour, which may be fabulous for that child. Another child may be able to do four problems in 10 minutes."
Unfortunately, not all devotees and practitioners of Montessori acknowledge its inherent Catholicism. And although Montessori education is incomplete without the inclusion of catechesis, it's still a beautifully Catholic way of teaching a child to learn — and learning from them in return.