The amazing story behind the image and how artists tried to remove the scars, but couldn't.
What can God do in your life with one Bible verse a day?
Subscribe to Aleteia's new service and bring Scripture into your morning:
Just one verse each day.
Click to bring God's word to your inbox
Have you ever seen the image of the Black Madonna known as Our Lady of Czestochowa? It currently resides in the monastery of Jasna Gora.
When Pope John Paul II visited that monastery in 1979, he said in his homily, "I am a man of great trust. I learnt to be so here. Amen."
The most striking feature of the image are two scars that remain on the Virgin Mary's cheek, as well as a third scar on her throat.
What's fascinating is how those scars came to be there and why they were never removed.
The painting, which tradition says was originally painted by St. Luke, eventually became the possession of Duke Ladislaus of Opole in the 14th century. His fortress in Belz was under attack by the Tartars, and during the battle a stray arrow hit the picture at the throat of the Virgin Mary. Fearing the image would be captured, Ladislaus fled with the picture and came upon the town of Czestochowa.
(Read here the beautiful homily of Pope John Paul II at Czestochowa as well as his act of consecration to Our Lady.)
Ladislaus then invited monks of St. Paul the Hermit (Paulites) from Hungary to build a monastery there and entrusted the image to them.
In 1430 a Hussite army overran the monastery and stole the prized image. They took it in their wagon and started to leave the monastery. After a short while the wagon wouldn't budge and the horses refused to go any further. The Hussites threw the image to the ground and one of the soldiers struck the painting twice with his sword, making two scars on the Virgin Mary's cheek. It is said that before he could make a third strike the soldier fell down dead on the spot.
The image was recovered from the looters and placed back in the monastery church. Artists over the years have repeatedly tried to fix the original image, but every attempt fails. The scars miraculously reappear every time, and so artists have given up trying to repair the image, recognizing that the Virgin Mary wants the scars to be there.
Some believe that the Virgin Mary wants the scars there to warn anyone else who may want to steal the image, while others see it as a sign connected to her many sorrows on earth. Similar to the scars on Jesus' resurrected body, they remain as a reminder of the suffering that is endured before achieving the heavenly reward.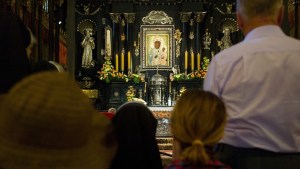 Read more:
Why is the Jasna Góra Shrine one the most popular pilgrimage destinations in Poland?