This 13th-century nun kept ships safe so they could reach and save Christian prisoners.
What can God do in your life with one Bible verse a day?
Subscribe to Aleteia's new service and bring Scripture into your morning:
Just one verse each day.
Click to bring God's word to your inbox
She was born sometime in 1230, some think around December 1, and was baptized on December 8 in Santa Maria del Mar parish in Barcelona. Her name was Mary de Cerevellon, and she was the daughter of a Spanish nobleman, William de Cerevellon.
As a young woman, Mary began working in Saint Eulalia Hospital tending to the sick, the poor and also those who were prisoners. One day she heard a sermon given by Bernard de Corbarie, who was the superior of the Brotherhood of Our Lady of Ransom, also known as Mercedarians.
She was so moved by what she heard she vowed right then and there to do all she could to help alleviate the suffering and misery experienced by those who were prisoners of the Turks. Working at the hospital, Mary was able to come in contact with the great leaders of the Mercedarian order, including the order's founder, St. Peter Nolasco. Inspired by these pious people Mary, in the year 1265, joined a small group of women who lived near the monastery. These women spent their lives in constant prayer and doing good works for those in need.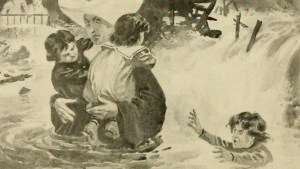 Read more:
The heroic nuns who lost their lives in the Galveston hurricane of 1900
In due time the women asked for and received permission to form the Third Order of Our Lady of Ransom. In addition to the normal three vows of poverty, chastity, and obedience, they also vowed to pray for all Christian slaves. They were all given permission to wear the white habit of the Mercedarians and Sister Mary de Cerevellon was elected their first Mother Superior.
Sister Mary had such an empathy and devotion to the poor and needy that soon she began to be called Mary of Help. Mary de Cerevellon passed away on Septemeber 19, 1290.
During Mary's life and after her death, there were people who swore that they saw Mary literally on the "wings of the wind," reaching down and saving floundering ships from rough seas so they might stay their course and continue on their journey to free Christian prisoners from the Muslims.
A great devotion grew in her honor and it was given approval by Pope Innocent XII in 1692. Paintings of Mary show her with a ship cradled in her arms as she saves it from the roaring seas around it. Mary de Cervellon's body lies incorrupt in the Mercedarian Basilica in Barcelona, Spain.
St. Mary de Cerevellon, please pray for us all.
Read more:
2 Saints and a psalm to invoke in bad weather