For some people; it's a trend; for others, it's a medical necessity.
What can God do in your life with one Bible verse a day?
Subscribe to Aleteia's new service and bring Scripture into your morning:
Just one verse each day.
Click to bring God's word to your inbox
For breakfast, pancakes (two pounds of gluten-free flour should last for nine days) with gluten free jam, cottage cheese, and tea made from leaves. For lunch, a sandwich made with gluten-free toast and gluten-free ham. Dinner is chicken filet from a special butcher (guaranteed to be free of contaminants), gluten-free rice, and fresh spinach with garlic.
This is not some trendy organic diet or a way to live in harmony with nature. This is a diet for people who suffer from celiac disease, an incurable gastrointestinal affliction.
I have the right to eat bread
"Sometimes I hear, 'You don't need to eat bread. I don't eat bread because it's healthier not to.' But I have the right to eat bread. Eating rice and corn all my life is not okay," says Caroline, a young woman who has suffered from celiac disease since childhood. She remembers the cookies her friends brought to school, while they laughed at her rice cakes. She remembers school birthdays and parties where she could not eat anything. She remembers her mother's tears and the special bread that had to be brought from far away.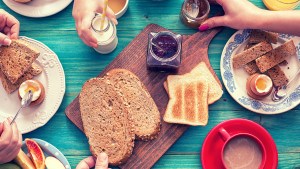 Read more:
Should you eat gluten-free if you don't have celiac disease?
Separate places, separate pots
Since she moved out to attend college, she has to control every little thing associated with eating. Living with celiac disease means not using the same food cutting boards as her roommates, carefully washing countertops, scrubbing the stove and oven after they are used by your gluten-eating roommates, having your own pots and pans, and of course, the stress that comes with eating out. In a restaurant, you never know if the cook washed his hands after handling wheat dough.
After six months of working in a pastry shop, Caroline became ill with hypothyroidism. That's how she learned that gluten can also permeate the body through the pores in the skin. If you don't follow the diet, you can die.
Price of life
Sadly, some people can't afford not to die; in poor homes, a strict diet is often impossible because there's not enough money. "The children get sick. They get depression … and a whole range of illnesses resulting from their disease and not being able to follow the right diet," says Caroline. Indeed, the cost of special gluten-free foods can be much higher than that of the traditional items.
Read more:
Celiac disease does not mean "No Eucharist for you!"
Italian paradise
"In a restaurant in Bologna, I was given two menus, plain and celiac. They had a separate oven, and the chef washed his hands and made us a special pizza. At an ice cream place, I heard, 'I'll give you a different cone, I'm not sure if something normal didn't fall in this one,'" recalls Caroline.
In Italy, celiac patients can not only count on government subsidies (for the cost of food) but also on human awareness and understanding, which is often lacking in other countries. Many people still think that gluten only means pasta, flour, and some biscuits. But there is gluten in some oil, ham, tea bags, soy sauce, and any other food contaminated during production or distribution.
Unseen illness
People suffering from celiac disease don't look sick. They don't have to get shots. Most often, they don't take pills. The only medication for celiac disease is a diet. Otherwise, the immune system's reaction to gluten destroys the body from the inside. Intestinal and hormonal disorders are not visible, but they have an enormous impact on the health and the quality of life of those who suffer from them.
Some people feel sick immediately after contact with gluten. "It's a bit easier; knowing what the consequences will be, they lose interest in anything containing gluten. I, on the other hand, would argue with myself, telling myself that maybe the doctor was wrong, maybe I was healthy," explains Caroline. She suffers from a latent form of celiac disease which has neurologic and psychiatricsymptoms. "I shiver at night when I'm under stress; I have depression, bad moods. My hormones go wild and destroy my thyroid."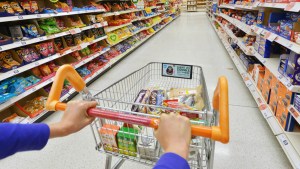 Read more:
How to avoid the dangers of processed food
As she says, this disease makes people realize that "food can be the greatest pleasure, but also the greatest punishment in life." The only thing she can do is to eat a healthy and restrictive diet. And that, unfortunately, has its price.
Unnecessary trend, unnecessary shame
"The fact that avoiding gluten is trendy, that's fine. At least there are more gluten-free products. But I do get annoyed that healthy people avoid gluten. Why do they do it? They don't know how lucky they are. I would give a lot to be able to eat normal bread with butter.
I am ashamed that I am sick. I am ashamed in a restaurant, at work, and in an ice cream parlor, when I ask for a gluten free cone. When I see the vendor's scornful face, I say, 'I'm sick, you know.' Sometimes I cringe that I have to ask about every little thing."
But every little thing that comes in contact with gluten can seriously harm Caroline's health and life.
Facts about celiac disease
According to the official website of Celiac Disease Foundation, "Celiac disease is a serious autoimmune disorder that can occur in genetically predisposed people where the ingestion of gluten [a protein found in wheat, rye, and barley] leads to damage in the small intestine. It is estimated to affect 1 in 100 people worldwide. Two and one-half million Americans are undiagnosed and are at risk for long-term health complications."
The only way to treat celiac disease is to follow a strict gluten-free diet for your entire life. Otherwise, the immune system's reaction to gluten leads to the disappearance of the small intestinal villi, the tiny mucous membranes that enlarge the surface of the intestine and are responsible for the absorption of nutrients. As a result, food absorption is impaired, leading to a variety of clinical symptoms and further progression of the disease.
This article was originally published in the Polish edition of Aleteia, and has been translated and/or adapted here for English-speaking readers.