It's not the whole truth, but it's the dream she needs to hear right now.
I recently advised the mother of a newborn to write letters to her daughter. "Write to her of your days together,"I said. "Tell her what her favorite books were, and what she excelled at, and what she did that made you laugh." I remembered this exercise as a cheery pastime, and after hanging up the phone, I  pulled out my own old stack of letters to my child.
"You collected six acorns and four autumn leaves today. You are an athlete already — you scramble up those rocks in Central Park, with me fast on your heels. What would I do if I weren't a dancer? I carried you all the way home for lunch!"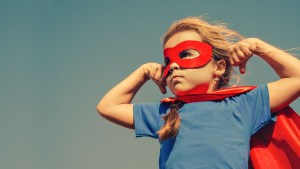 Read more:
Raising kids to be independent while keeping them close
This was a day in the life of my 2-year-old. I sat and read them all, struck by something I had not noticed when I wrote them. The formal structure of a letter had encouraged me to put the world in order, to tie up each of life's episodes with shiny string. At some point I'd stopped writing these notes, perhaps because it took so much work. Perhaps also because life is now harder to tidy; fate has stepped in.
My child is five and a half. She embodies Wordsworthian dreams; she romps and gallops and comes home covered in dirt. And — as the letters reminded me — until two years ago, I was always right beside her, the picture of good health. My heart broke a little as I read through these summations of our days.
My medical struggles began when she was a few months shy of four. First, my left hip capsule tore violently during a split jump in ballet class, and I received a diagnosis of bilateral hip dysplasia. I was scheduled for two major surgeries separated by nine months. Both hips needed a procedure in which the pelvic bone is broken, reconfigured, and put back together with long metal screws. Without surgery, the continual pressure of tendons pulling off my shallow hip sockets would tear my joints apart.
Read more:
Father's reaction to son's spilled Slushie is more than just great parenting
I limped through the 6-month wait for my first surgery. At last the date approached, but just before, I developed heart palpitations and collapsed while watching my daughter at the playground. A cat scan revealed a tumor munching through my third rib; it had to be resected: a surgeon cut through my breast and removed the fractured, mangled, tumor-eaten bone and replaced it with a delicate scaffolding made of a substance called Cormatrix, so thatthe surface of my chest would not collapse. Just as I began to get feeling back in my left arm, I proceeded with my scheduled hip reconstruction, spending ten weeks on crutches, struggling to leave the apartment even for short spells.
It was a long summer.
By early fall, though, I'd recovered enough to walk to Central Park; I was even able to point my toes enough to hobble through some ballet steps. But things would not stay calm for long. Two weeks before Christmas, as we began to decorate our small apartment for the holiday, I developed a cough, and noticed that the delicate mesh that filled the spot from which my rib had been yanked was collapsing.  It's difficult to explain the terror at seeing your lung inflate through the skin of your breast, balloon-like, unconfined by bone or human flesh.
Read more:
3 Positive parenting tips from the Venerable Fulton Sheen (VIDEO)
I lay in bed each night for a week while awaiting a second chest wall repair. I relentlessly imagined the scalpel plunging once more through my breast. My heart beat wildly, I hugged my daughter, still an avid co-sleeper, and did not sleep for seven straight nights. In the day, I managed to put on a bright face, hoping she did not notice that I walked stooped over, protective of the deep cavity in my rib cage.
When I did tell my little one — who had already witnessed me incapacitated for months, who had visited me while I was hooked up to monitors and blood transfusion machines in hospitals far from our cozy home that Mommy needed yet more surgery, I tried to smile confidently. "Mommy just needs a touch-up," I told her. She grew  expressionless and walked wordlessly into her room. How could I prevent her from being frightened, or angry with me?
Six days before Christmas I arrived at the hospital alone at 5 a.m. Poked by needles and placed on a gurney before the sun rose; I lay wondering if my daughter would be startled by my absence when she awoke, or if she would remember all too well that Mommy had gone back to the hospital.
This time I was outfitted with  Gor Tex mesh. Determined to show my child, and perhaps myself, that her mama was tough, I went ice skating with her and her father three days after discharge from New York Presbyterian Hospital. On Christmas day, Frank Sinatra and Ella Fitzgerald poured out of the Bryant Park speakers and we glided past an enormous sparkling tree in pursuit of holiday cheer, of normality. We took photos, and I smiled for the camera.
The next day, I began to sweat and shiver; my teeth chattered madly, my temperature soared and I sucked on ice chips to ease acute nausea. I was diagnosed with atelectasis, a condition in which a lung does not fully inflate after surgery. So began my daily regimen of exhaling into an incentive spirometer, inhaling warm air from a portable vaporizer, and taking steroids. One month later I was back at the hospital yet again, to saw into the right hip, reshape it and hobble home on crutches.
I will be on crutches until my pelvis heals, and I can begin learning how to walk yet again. I know this road; so too does my child. She has watched her mother go to the hospital five times in less than 12 months; when she exuberantly bounds into my bedroom after school, she has been reminded countless times not to land on Mommy's ribcage or hips.
I have lost weight; my right leg has atrophied and I spend much of the day in pajamas. I hurt; the nerve pathways of my weary joints rattle at all hours. I have much time to ruminate, to worry, to fear that my child will remember this mother better than the one who scrambled to the summit of so many jagged cliffs like Westley in hot pursuit of Buttercup. I worry too that I might not bloom back into full health, that I will always be a little fragile now, fearful of pedestrians walking too swiftly past or afraid to carry a heavy weight on the precarious Gore Tex scaffolding that fills the hole in my chest.
*****
I remembered the letters the other day — those that chronicled our adventures, the incomplete "good parts" record that distilled the gold from each of our early days. It was easy to be of good cheer before disaster struck. I wondered what I could write to my child now.
I took up my pen and scribbled a few lines.
I ache to be with you as summer blooms, my little love. I feel incomplete, so unworthy of the name "Mama." Your little art projects, rendered so lovingly and brought to my bedside each day make my heart constrict with guilt and longing. I hate to think of  your affections transferring to the babysitter who cares for you after school as I lie in this dark back room. How selfishly I wish to keep your primal adoration for myself, and how I curse this sharp pain as I hobble to the kitchen. I am rattled when you jump on the bed and I wish you could remember not to squeeze me with such force. How have I come to be afraid of my own child? How have I come to be so fragile?  I am tired of being tired. And what if I am never well?
I tore the note up.
I once wanted my daughter to read these letters and derive from them an understanding of how to live, how to respond to life's ups and downs, to the twists and turns in the road. Previously, my letters shaped the past; now I wanted them to  prevail upon the future, as though fate would follow my instructions.
I began again — fiddling with reality, adjusting its color and tone, polishing it to a shine.
Darling daughter,
Mommy is going to get well. I will not always be confined to the bed. I will stand steadily on two feet; I will witness your triumphs on the monkey bars and wave to you as you climb those steep rocks in the park. And one day, we will have that race we've planned on the local running track, and I will win it.  I'll run even faster than you that day!
It is not the whole truth — she does not need to know how much I worry, nor will she need to know it later. The letter will tell her everything shedoes need to know — a distillation of what's relevant: my dreams.