As a mom of a son with Trisomy 21, these stories thrill me, but also fill me with misgiving.
As a mom of a son with Down syndrome, I am filled with hope for my own child's future when I see stories of adults with Trisomy 21 who save people from drowning or earn doctorates or other such marvels. But these stories also give me an odd misgiving. As inspiring and wonderful and good as these stories about actors and models are, there is lurking within them a temptation.
It's certainly not wrong to rejoice in the triumphs of these young people and adults, and in fact we need to do so all the more vociferously as the world grows more fierce in telling us that people who have Down syndrome don't merit any life at all.
But even as we rejoice at the triumphs of these people, we must remember that we are not valuing them because of their triumphs, but because they're people. If we value them because of what they do, we fall into the same trap as so many who do not value them because of what they can not do.
People with Down syndrome don't have to get law degrees or fly around the world to be valuable, any more than people without Down syndrome need to zipline Niagara Falls or become Top Chef to be beloved.
Read more:
Women With Down Syndrome Respond to God's Call
We are to be loved because we were made by the God who is love, and made to love. All of us, no matter our genes. Our value, our dignity is innate and not dependent upon our gifts or our accomplishments. We know this when we hold our newborns in our arms in the hospital. But somehow, the world keeps trying to suck this wisdom out of us from the day we take them home.
These wonderful people with Down syndrome who are doing these momentous things — they inspire and remind the world that no one is a throwaway, no one's life is known before they are born except by the One who made us. The stories are necessary in a world which bases the worth of life on what the person can earn and deliver. They are part of God's whisper to a fallen world, "They are beautiful. They are my children. Love them and you will be surprised by joy."
I want my son to succeed because I want all my children to succeed. I want Paul to live an independent life to the extent he can — perhaps choosing his profession, his home and his friends. That is the goal I have for each of my children.
But if Paul never makes the headlines because he's a kid with Down syndrome who did something heroic or accomplished something great, that's okay too.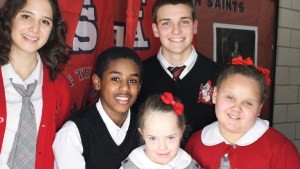 Read more:
Immaculata Classical Academy, where kids with Down syndrome are just kids
We parents revel in the victories of our children with Trisomy 21. It's just that most of us who have children with this condition get to see quieter heroics — the heroics of merely growing up.
We get to celebrate an almost 9-year-old, who once had open heart surgery, running a 5K, and doing it with better speed and energy than his parents who sometimes work out. We get to be surprised one morning because he got up earlier than us, and placed three boxes of cereal on the table, three bowls, three spoons, and the gallons of whole and skim milk. He knocked on our door, and led his parents to the table to feast.
These kids teach us to love being in their presence.
The wonder of all of life is the discovery of how much joy another person, every other person, can bring into our hearts. That joy comes not from what a person does, but from who that person is, in relation to us.
St. Therese of Lisieux said, "Jesus does not so much look at the greatness of our actions, nor even at their difficulty, but at the love with which we do them." She also invites us to "prefer the monotony of obscure sacrifice to all ecstasies."
"To pick up a pin for love can convert a soul," she says.
The people who see my son and countless other children like my son — we fortunate happy few — get the whispered reminder daily, in the form of picked up pins. "All we do, we are to do for love. All we are to do, is love. All we are, is love."