Valerio Catoia, 17, has become a national hero and an example of overcoming obstacles.
At the age of 3, Valerio Catoia took up swimming because his family wanted him to develop muscle strength and learn how to fend for himself in the water. Now a 17-year-old teenager, Valerio has a swimming career that has led him to the Special Olympics, much to the pride of his parents and friends. His life has been full of surprising promise, but no one ever expected that his high-level swimming abilities would one day enable him to save a girl's life and become an overnight hero in Italy.
Valerio, who has Down syndrome, was enjoying a leisurely afternoon at Sabaudia Beach in the Italian region of Lazio, along with his father and a younger sister, when they heard two girls, ages 10 and 14, crying out for help. The tide was dragging the two sisters out to sea and they couldn't reach the shore. Valerio and his father dove into the water to save them, and Valerio was able to help the younger sister, thanks to a first aid course that taught him how to position her so that her head would remain above water. His father did likewise. The lifeguards also ran to the scene, but Valerio and his father had beaten them to it.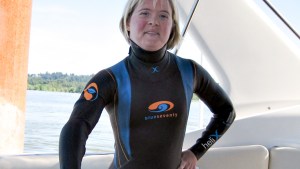 Read more:
First woman with Down syndrome to swim English channel and earn doctorate faces new challenge
The event made headlines in Italy, as newspapers highlighted the heroic efforts of Valerio. The Italian Sports Minister congratulated him, and the former prime minister Matteo Renzi praised the boy's bravery, saying that Italy should feel proud to have citizens like him.
Valerio will now return to his summer training and his activities with the scouts, and will return to school in the fall. He's trying to live his life as usual, but Italy has been talking about his heroic deed for days. He hasn't changed, he says, but those around him have.
This article was originally published in the Spanish edition of Aleteia and has been translated and/or adapted here for English speaking readers.