How to express your love for your children in ways that will help them grow up happy, loving, and well-balanced.
What can God do in your life with one Bible verse a day?
Subscribe to Aleteia's new service and bring Scripture into your morning:
Just one verse each day.
Click to bring God's word to your inbox
"United in love." This short phrase from Colossians 2:2 just about sums up the true sense of family and the love we give each other. Although it might seem obvious that we love our children, it's best they be left with no doubt. Saying "I love you" is necessary, but not sufficient; "actions speak louder than words," as they say, and that's definitely the case here.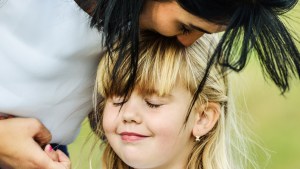 Read more:
This is how to bless your children
Children need to feel loved by their parents if they are to develop a healthy personality, and that experience needs to start as early as possible — in some ways, right from the very moment of conception. Experiencing parental love and affection will give children confidence, self-esteem, and a sense of security, and will help teach them to love others.
Here are 10 suggestions for how to express your love for your children in ways that will help them grow up happy, loving, and well-balanced.
1. Give them hugs and kisses
When we communicate with someone, more than 60 percent of the message we are conveying may be expressed by body language. One way to show our affection for our children is by kissing and hugging them. However, we can also simply add a touch of tenderness to the way we express ourselves, and be gentle in our movements and gestures; that will help them understand just how important they are in our eyes.
2. Be present
An important aspect of expressing our love is being present—simply being there. We need to spend quality time with them, participating in their daily lives whenever possible. It's just a question of putting aside our tasks (or our cellphone) for a moment to actually devote ourselves to them, play with them, show interest in what they're doing, or ask their opinion. One-on-one time can be particularly valuable.
Read more:
"It is not enough to love the children…"
3. Listen
Physical presence is only part of what's needed; we must show that we are mentally present to our children as well. If they feel sad, we should console them; and if they are sad for a good reason, we should share that feeling — and let them know we do. We must pay attention to their ideas and their concerns, and try to respond to all their questions, even if we don't have all the answers. There's nothing wrong with saying that we don't know the answer; that's better than ignoring the question.
4. Trust them
Another way we can show our children we love them is by trusting them. By giving them some freedom, we prove to them that we believe in them. Despite the worries that we might have, often based on personal experience, we can't forget that kids are different people than we are, and might succeed where we failed. If we have confidence in them, they'll feel confident too. Warnings are healthy—we do need to protect our kids—but it's just as important to encourage them and challenge them to grow and do new things, and to become gradually more independent. Trust is a huge gift of love.
Read more:
The one thing good parents do that harms their children
5. Respect them
Respect is one of the foundations of any relationship, and it must be reciprocated. One of the most beautiful demonstrations of love is to know how to respect our children. This does not mean treating our children as equals before they reach adulthood, but it does mean prudently respecting their dreams, ideas, preferences, and choices more and more as they mature — even if we don't always agree with them.
6. Encourage them
When we encourage our children, even during their failures, they will not only gain confidence, but also feel loved — faults and all. We should show our pride in them, not only for their achievements, but also for their work, their ideas, their efforts and their perseverance. Also, we must acknowledge what they do for us or for others; besides being a matter of justice, gratitude can be a great motivator.
7. Be protective (but not too much)
If we protect our children, they will know they are important to us. However, we must be careful not to smother them! Contrary to what we are trying to achieve, over-protection is dangerous: they will think that we consider them incapable of taking care of themselves. Consequently, they will probably end up either agreeing with us and developing feelings of inferiority and insecurity, or rebelling against our protection. We must find the right balance so that our children feel safe without feeling restricted, just as the old saying goes: give children roots to grow and wings to fly.
Read more:
3 Positive parenting tips from the Venerable Fulton Sheen (VIDEO)
8. Set limits
Right from birth, children learn every minute of every day. This learning process requires a framework and boundaries. It's a parent's role to know how to set limits and create rules. Our children will inevitably push the limits and test their boundaries, but they will also learn to appreciate them, especially if we are ready to give reasons for the rules (with explanations appropriate to the age of the child). Sometimes it takes them seeing the bad results of not respecting limits (in their own lives or in that of their peers) for them to fully appreciate discipline, but the time will come. And as with the previous point, we need to keep a healthy balance, neither being too restrictive nor giving them free rein.
9. Give them freedom to be themselves
It is also important to give our children the opportunity to be who they are and not what we want them to be. We mustn't burden them with our expectations. Loving them means having the strength to let them be autonomous and to allow them to no longer need us, when that time comes. Even if it's difficult to see our children pulling away and becoming more independent, love requires us to let them spread their wings and fly.
Read more:
Father's reaction to son's spilled Slushie is more than just great parenting
10. Be honest
Finally, we must not lie to our children. They love us and trust us, and if they find out we have lied, they will end up feeling upset and betrayed. They could think that we are lying because we don't love them — or, they might conclude that lying to people you love is okay, and neither scenario is a good outcome. When we make a promise, we must keep it. When it seems difficult to explain something to a child, we must stick to the truth, even if things need to be simplified or explained using images and metaphors until our children are old enough to understand. Honesty is a sign of trust and respect, and is necessary in a loving relationship.
This article was originally published in the French edition of Aleteia, and has been translated and/or adapted here for English-speaking readers.