​When true happiness matters more than money.
"Love is patient, willing to serve, and free of envy. It does not go by appearances or put on airs. It does not act basely or selfishly," the Bible says. And while some may think this description exaggerated or too romantic for real life, there are cases that renew your faith in these words. Last month, Princess Mako of Japan made headlines when she announced her engagement to Kei Komuro, a commoner who she says gives her peace and makes her smile.
According to the strict norms of the Imperial House, if a woman marries someone who does not hold a title of nobility, she loses her royal status (the same does not happen with men, who are allowed to marry "common" women).
"Ever since I was a child, I knew that I would lose my royal title once I got married. Meanwhile, I have worked to help the emperor and have fulfilled the tasks of a member of the royal family as much as I could. I loved my life," she said in a press conference along with her fiancé.
Mako is the first granddaughter of the emperors Akihito and Michiko to get engaged, and although she does not have a right to the throne as a woman, she did have certain privileges as a princess (although in her daily life she rarely used them).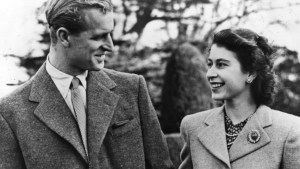 Read more:
7 Lessons from the successful marriage of Queen Elizabeth II and Prince Philip
She and her fiance met at the International Christian University of Tokyo in 2012, where both were students. Mako said the first thing that attracted her to him was his smile, which she describes as "radiant like a sun," while he was captivated by her peaceful way of seeing things, "like the moon."
They plan to fulfill all of the traditional rites out of respect for the emperors, who already approved the match. In fact, there will be an imperial wedding as such (she will lose her status at the moment when she says "I do"), which will be held in the fall of next year.
At present, she is working as a researcher at a branch of the University Museum of the University of Tokyo, and he is working for a law firm.
Princess Mako is not the first one to sacrifice herself for love in the Japanese royal family. Her aunt Sakayo also did so in 2005 when she also married a commoner.
The imperial family is in a tight spot, since without Mako there will be only 18 members, and 13 of them are women. Perhaps they will have to change the rules so that women can be empresses? It's not something that the princess or her fiancé lose any sleep over, since both say their only interest is in "building a tranquil and relaxed home to form a family full of smiles."
Read more:
The secret love story behind J.R.R. Tolkien's romantic characters in 'The Lord of the Rings'
This article was originally published in the Spanish edition of Aleteia and has been translated and/or adapted here for English speaking readers.