Different kinds of human connection are essential for our health and happiness.
One of the realizations I had when we evacuated from Hurricane Irma was how much I like spending time with my friends and neighbors in Ave Maria, our little university town in the middle of the Florida swamps, and how rarely I actually do it.
Sure, life is busy. I've got 5 kids and full schedule, and some days I hardly have time to shower. So it's natural that social time has become a luxury, since it's not a necessity.
Except that it is. Ironically, the article that reminded me that human connection is essential for our health and well-being opened with the author, former surgeon general Vivek H. Murphy, ruminating on how his community in south Florida pulled together in the wake of Hurricane Andrew … and how, as life went back to normal, they grew apart again.
Looking today at so many other places around the world ravaged by disasters of all kinds, I think about how often tragedy brings us together — and how fleeting that connection often is. During my years caring for patients, the most common pathology I saw was not heart disease or diabetes; it was loneliness. The elderly man who came to our hospital every few weeks seeking relief from chronic pain was also looking for human connection: He was lonely. The middle-aged woman battling advanced HIV who had no one to call to inform that she was sick: She was lonely too. I found that loneliness was often in the background of clinical illness, contributing to disease and making it harder for patients to cope and heal.
The loneliness epidemic is continuing to grow, and it's worth remembering that loneliness isn't limited to its impact on our emotions. Loneliness has measurable systemic effects that threaten our health more than smoking, and at least as much as obesity. But sometimes we might not recognize that we're lonely.
Read more:
The 3 lonely souls God called me to help
Often, I'm so busy that I don't have time to feel lonely. It isn't until I bump into a friend and come away from the brief conversation with a smile on my face that I realize how much I need human connection.
It feels kind of stupid to write that since I currently have a small human literally hanging onto my leg. I mean, how much more human connection could I possibly need? Sometimes I get to the end of the day and make everyone kneel for prayers just so I can spend a few minutes without someone in my arms or my lap. In those moments I feel like I need more loneliness, not less.
But I'd never turn down a spontaneous chance to slip away to a friend's house for a cup of coffee or glass of wine while my husband handles bedtime. Blissfully kid-free conversations with friends always feel like fresh air I didn't even know I needed. It's a different kind of connection, and it's not a luxury. It's a necessity.
No matter what our schedules look like or how overwhelmed we are, we still make time to eat, exercise, brush our teeth, and sleep. We should put time spent with friends and family in the same category, as something that is essential for our health, well-being, and happiness.
Now if you'll excuse me, I have some coffee to make and a friend to call.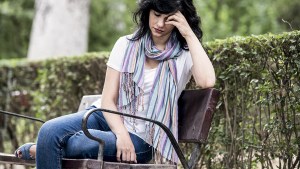 Read more:
How to battle the loneliness epidemic