Two dads have started support groups for new fathers across the country to fill the void in resources for dads.
Not long ago, it would have been unthinkable for a man to stay home with the kids while the woman worked to support the family. Now, with more jobs available for women and gradually expanding paternal leave policies, some dads are choosing to stay home with their babies.
Some only stay home for a year or two, some stay home for good — but all these dads are discovering the same thing: a lack of resources for stay-at-home dads. That's why two New York City dads, Lance Somerfield and Matt Schneider, took matters into their own hands and teamed up to fill the void for new and expectant fathers, as they told the Huffington Post.
They started small. He and Matt and two other dads from the 92Y program would regularly make plans to meet up. Lance remembers a day at the Whitney Museum when the group decided to go down to the cafe for lunch. "You know, we were baby-wearing dads at the museum. And back, 10 years ago, that was a big deal. The comments, the gawking looks we got, you would have thought that we were out of the zoo." Lance and Matt noticed the children's gyms around town that offered a dozen "Mommy & Me" classes featuring a buffet of activities, but nothing for dads, which just reflected the cultural offering. They decided to show up to free trial classes with half a dozen dads. "We really just wanted [to get] dads together to meet face-to-face."
Lance and Matt also wanted to help expectant fathers prepare for fatherhood, so they started a "New Dad Boot Camp" where brand-new fathers would bring their infants in for expectant dads to practice holding, soothing, and changing.
This is all brilliant. In everything from parenting classes to hospital interactions, I couldn't help but notice that my husband was all but ignored … and he couldn't help but feel it. He was (and is) an essential support for me and our children, but he was treated like an accessory. Nurses and doctor routinely directed questions and conversation toward me or each other, and often seemed to forget he was even in the room until he stepped forward and spoke up.
I can't imagine how much harder it must be to face that kind of marginalization as a stay-at-home dad. And one of the things I love best about Matt and Lance's City Dads group is that they decided to open it up to all dads, not just those who stay at home. In fact, one of the main topics that the groups have been discussing recently is a familiar one for moms: how to balance work and family, and what to do about the sticky question of paternal leave.
And it's not just a resource for dads in NYC anymore, either. They've expanded the group to 36 cities nationwide and have over 10,000 members. Matt and Lance clearly identified a need for new dads and are doing great work to provide resources and support for often overlooked fathers, whether they stay at home or not.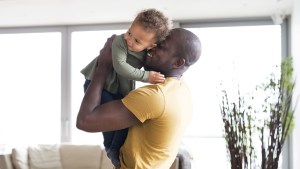 Read more:
The research is in: Fathers are not replaceable