Need some ideas for an upcoming event? Let these dresses in a rainbow of earthy hues inspire you.
Whether it's a rustic wedding reception in the full glory of the autumn woods or a black-tie event in the heart of the city, fall events have their own sort of splendor … and so should you!
Below you'll find a rainbow of dress ideas drawn from Pinterest, starting with more formal dresses in each color and progressing to something suitable to wear to your cousin's humble after-party in the backyard. Of course, the black-tie dresses are probably affordable only for Saudi princesses, but they can still serve as inspiration. Or at the very least, eye candy. Enjoy the fashion foliage!
Reds
From black-tie to less formal looks, these autumnal reds range from dramatic to mellow hues. And burgundy velvet takes us to a place reminiscent of spiced cider … or Cabernet Sauvignon.
Oranges
Orange can be a hard color to pull off, but these earthy, toned-down versions won't make you look like you recently escaped from a high-security prison. Unexpected color combinations, like peach and orange or yellow and rust, can add a playful touch.
Yellows
Yellow can also be a striking option, like sunlight shining through yellow leaves. The accessories are kept neutral and quiet so that the yellow takes center stage.
Greens
What could be more seasonally appropriate than forest green or deep teal mixed with hints of gold? By February, you'll be yearning for those lost fields of green, so feast your eyes on it now.
Blues
Like gorgeous October skies, autumn blues are deep and varied.  Think midnight blue with hints of sunset gold peeking around the edges, or the soft glow of twilight rendered in quiet velvet.
Purples
Purple in fall is sumptuous and gleaming in eggplant or plum. As in bygone eras, it's a royal hue that takes on a seriousness in its darker tones, very far removed from its more lighthearted cousin, lilac.
And … the pot of gold
A rainbow wouldn't be complete without its pot of gold at the end (what can I say, I'm Irish), so here are some metallic options to jazz up your evening. Just be careful not to outshine the bride or drift too close to white.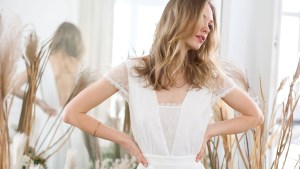 Read more:
6 Wedding dresses that won't break the bank