Parents decide the meaning of baby talk, not vice versa.
What can God do in your life with one Bible verse a day?
Subscribe to Aleteia's new service and bring Scripture into your morning:
Just one verse each day.
Click to bring God's word to your inbox
Only my last baby said "mama" first. My oldest daughter said "dada" first; my next daughter said "shoe" first; my oldest son said "ball" first, and my next son said "dada" first as well.
But my sweet little baby Isaac said "mama" when he was barely six months old. It was a much-longed-for treasure that I have stored in my heart.
That's the story I tell my kids, and the one I'd write down in a baby book if I had one (LOL, I do not). The true story is a little different — but first, you have to understand why all babies everywhere call their moms "mama."
The Atlantic recently published a fascinating article about how it took a linguist thousands of years to discover what mothers have known forever: that babies make the sounds "mama" and "dada" first because they're the easiest to make.
Babies "speaking" in this way are just playing. But adults don't hear them that way. A baby says "mama" and it sounds as if he's addressing someone — and the person he's most likely addressing so early on is his mother. The mother takes "mama" as meaning her, and in speaking to her child refers to herself as "mama." Voilà: a word mama that "means" mother. That would have happened with the first humans — but more to the point, it has happened with baby humans worldwide, whatever language they are speaking. That means that even as the first language was becoming countless others, this "mama mistake" was recreating "mama" as the word for "mom," whatever was going on with words like mregh.
See, all these other mothers were smarter than I was. It took me five kids to learn what they've known forever: when it comes to babies, you've got to take what you can get.
Here's the real story about my kids' first words: All my kids said "mamamamamamama" first, because that's the sound that babies make first. As a fair-minded, authentic (read: dumb) person, I waited until they consistently made an intentional sound that clearly had a meaning before I declared it their "first word." But after baby four not only said dad first, but called me "dada" until he was 3, I chucked fair-mindedness and authenticity straight out the window. The second baby Ike made that "mamama" sound, I heralded his first word like the angel of the Second Coming.
"HE SAID MAMA! THAT'S HIS FIRST WORD! HE LOVES ME BEST! LOL FOREVER! IN YOUR FACE!"
Kinda like that.
You know, the way mothers have been doing forever.
And this is why I do not have a baby book.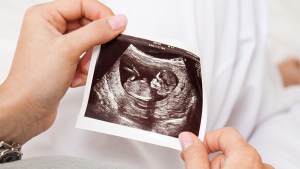 Read more:
20 Amazing facts about babies in utero