Can Satan predict the future? Move objects across the room?
Satan and his demon followers are mysterious figures of the spiritual realm. They torment us on a daily basis, though usually their actions are invisible to the eye.
Scripture has much to tell us about Satan and his minions, and over the centuries the Church has grown in its understanding of these malevolent spiritual beings.
Here are five facts that help shed more light on these dark creatures.
What was Satan before his fall into darkness?
The Catechism of the Catholic Church affirms, "The Church teaches that Satan was at first a good angel, made by God" (CCC 391). He is traditionally named Lucifer, or "light bearer," when he was a bright angel of light (cf. Isaiah 14:12-15).
Besides that, the Church has varying traditions as to what kind of angel Satan was. Saint Thomas Aquinas argues in his Summa that, "Cherubim is interpreted 'fulness of knowledge,' while 'Seraphim' means 'those who are on fire,' or 'who set on fire.' Consequently Cherubim is derived from knowledge; which is compatible with mortal sin; but Seraphim is derived from the heat of charity, which is incompatible with mortal sin. Therefore the first angel who sinned is called, not a Seraph, but a Cherub."
However, there is no dogmatic declaration from the Church regarding whether Satan was a cherub or seraph.
Can Satan (or any devil) predict the future?
The Catechism declares, "The power of Satan is, nonetheless, not infinite. He is only a creature, powerful from the fact that he is pure spirit, but still a creature" (CCC 395).
The short answer is no. Fallen angels (as well as good angels) do not have access to the future unless God reveals it to them. As Jesus says in the Gospel of Mark, "But of that day or hour, no one knows, neither the angels in heaven, nor the Son, but only the Father" (Mark 13:32).
On the other hand, they can make predictions about the future based on observation. Demons by nature are extremely intelligent and can observe people and events very closely, having a sense of what will happen. Essentially they can "predict" the future with limited accuracy, not because they know something hidden, but because they are able to observe and give a general prediction like any smart human.
Can they move physical objects?
Angelic beings are powerful spiritual creatures and have limited power when it comes to physical matter. Most of the time demons perform visual tricks by negatively influencing our minds with illusions, making it appear that something is moving when it is in fact not.
Other times they can move physical objects, making them fly across the room as can be seen in various horror movies. It is a rare occurrence, but can happen. Thomas Aquinas devotes a question in his Summa explaining how this can happen.
What does Satan look like? 
All angels are pure spirits, meaning that they do not posses a physical body, though at times they can take on the appearance of a human or some other creature. The visible form that is often reported in Scripture or popular news stories is merely a facade, a mask they put on so that we can see them with our eyes. Otherwise they are naturally invisible creatures.
Artists have used various images to depict Satan, such as a dragon, serpent, or a some other mythical creature. However, according to Satan's nature he is without physical form.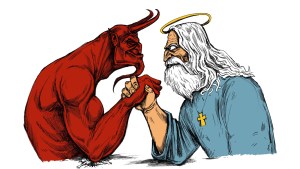 Read more:
Why is Satan depicted with horns, red tights and a pitchfork?
Can Satan cast people into Hell?
The Catechism is very clear on this topic, "To die in mortal sin without repenting and accepting God's merciful love means remaining separated from him for ever by our own free choice. This state of definitive self-exclusion from communion with God and the blessed is called 'hell'" (CCC 1033).
Simply put, no, Satan can not cast/force people into Hell. We choose to go there out of our own rejection of God. Satan may influence us during our time on earth, but we are still free and make that choice at the end of our lives. If a human goes to Hell, it is because he has chosen to do so and goes there freely.
Read more:
Be careful of Satan when he's sweet and polite, warns pope