Can Satan cast people into Hell?
The Catechism is very clear on this topic, "To die in mortal sin without repenting and accepting God's merciful love means remaining separated from him for ever by our own free choice. This state of definitive self-exclusion from communion with God and the blessed is called 'hell'" (CCC 1033).
Simply put, no, Satan can not cast/force people into Hell. We choose to go there out of our own rejection of God. Satan may influence us during our time on earth, but we are still free and make that choice at the end of our lives. If a human goes to Hell, it is because he has chosen to do so and goes there freely.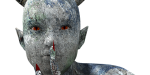 Read more:
Be careful of Satan when he's sweet and polite, warns pope