Father Duffé: What kind of nuclear technology do we share? Those of peace or those of destruction?
Need an idea for Lenten almsgiving?
Help us spread faith on the internet. Would you consider donating just $10, so we can continue creating free, uplifting content?
Make a Lenten donation here
Three hundred and fifty experts, including 11 Nobel prize winners, many diplomats, and representatives of the United Nations and NATO, were invited to the Vatican today and tomorrow, for a symposium on "total disarmament."
The Holy See intends to throw all its weight on the international scene behind the prohibition of nuclear weapons. Father Bruno-Marie Duffé, organizer of the conference and Secretary of the Dicastery for Integral Human Development, insists on the political choices the states need to make.
In the context of heightened nuclear tensions in North Korea, is this symposium taking place at a critical moment?
Father Duffé: It is true that, currently, the issues surrounding nuclear weapons are being radicalized—not only because of the threat of this or that country, but also because of a context of international crisis. Today, states have been weakened, and therefore the international institutions with them as well. However, the states still have a moral responsibility. What is also striking is that there is very little talk of co-operation or of an alliance between states.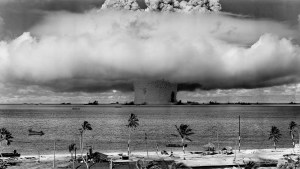 Read more:
Spokesman: Holy See disarmament conference not meant to be N Korea/US mediation
What can the international community do about the nuclear threat in North Korea? 
Father Duffé: There is a feeling of helplessness, of having to move a great mountain … But I believe in the strategy of dialogue, which is ultimately much more fruitful than threats and one-upmanship, which logically leads to a spiral of escalation.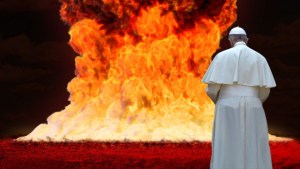 Read more:
7 Take-aways from Pope Francis' talk on nuclear weapons: There's a light of hope
What about Donald Trump's strategy…? 
Father Duffé: Let's say it's one of fear. But to the contrary, I recently met with the President of the South Korean Bishops' Conference. They are not resigned to breaking with their North Korean brethren. This is because the Church tries to promote dialogue between religions and political leaders in the South, but also with the North, because it considers Koreans to be one people.
It seems that during this symposium on nuclear weapons, the Holy See wants to insist on the economic aspect…
Father Duffé: Money is at the core of war, we must truly admit. The question is, in which sector do we want to invest money and skills? A second question: Is it true that security is obtained by investing money in armaments? I note in passing that, as in all crisis situations, arms producers and dealers are doing well. So there is an ideology of security, which consists of saying that the balance of power at an international level is maintained by being armed. But this balance is very fragile, because it is based on fear. Can we base a policy on fear? I don't think so.
What exactly is the moral responsibility of states?
Father Duffé: This concerns the West in particular, in the field of the transfer of technologies. If more and more countries have atomic weapons, it is because we have passed on the technology. And what kind of nuclear technology did we share: civilian nuclear energy for medical or energy use, or military nuclear destructive use? It can be argued that, most often, the latter is the case. This is a political decision.
Is it possible to reconcile politics and morality?
Father Duffé: It is quite difficult, because politics are very dependent on economic constraints. But this leads to politics being driven by the economy. Politics, therefore, need another foundation, which is that of morality. It is not a question of giving lessons, but of bringing convictions, a philosophy, beyond political strategies, in order to structure political decisions.
[Translation by Aleteia]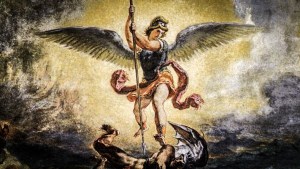 Read more:
Overwhelmed by so much evil? Here are 3 of St. Michael's weapons