These habits can help prevent osteoporosis and osteopenia.
Send us the names of your loved ones who are sick or suffering. The Aleteia prayer network of 550 monasteries will take them to prayer for the World Day of the Sick.
Click here to share your intentions
Osteoporosis is a disease that causes low mineral density in the bones, and a deterioration of bone tissue, which in turn leads to bone fragility and the increased likelihood of a fracture. The disease is actually very widespread, and it will likely increase in the future as the population ages.
But before osteoporosis, there is a previous stage: osteopenia, the loss of bone mass in any stage in life.
Age is a key factor in the onset of osteopenia and osteoporosis; from age 40 onward, bone density begins to diminish, both in men and in women. But once women hit menopause, the process accelerates.
As always, prevention is the best remedy. From youth, we need to foster bone formation with good habits: moderate use of alcohol, not smoking, regular exercise, exposure to the sun, and a varied, balanced diet.
Our nutrition needs to give us the essential vitamins for our bones, such as calcium, phosphorus, and vitamin D, which help bones develop and function. But we also need vitamin K, magnesium, and zinc, which help maintain bone health in life's various stages.
Proper nutrition for better bone health
The first essential ingredient for bone health is calcium; adults should get 1,000 to 1,200 mg per day. The following foods will help you get your daily ration:
Fruits and vegetables: collard greens, turnip greens, broccoli, kale, oranges, dry figs
Dairy foods: yogurt, cheese, cream, milk
Non-dairy drinks that are rich in calcium: nut milks, soy and rice milks, oatmeal smoothies.
Legumes: white beans, kidney beans, chick peas
Dry fruits, seeds, and grains: almonds, sesame seeds, tahini, Brazil nuts, hazelnuts, almond paste, amaranth
Fish: canned sardines
Foods rich in vitamin D
You need vitamin D to absorb and metabolize calcium. While you get 90 percent of your vitamin D from your skin's exposure to the sun, you still need the remaining 10 percent from foods. Try supplementing your sunshine with these:
Fish: salmon, mackerel, halibut, trout, eel, tuna (fresh or canned), sardines, prawns, cod liver oil
Vegetables: mushrooms or Shiitake mushrooms
Protein foods: eggs, some dairy, beef liver
Other bone-building nutrients
Vitamin K helps bone health, so aim to eat green, leafy vegetables like spinach, lettuce, kale, asparagus, collard greens, turnip greens, Brussels sprouts.
Phytoestrogens (isoflavones) help form and mineralize bones. You can find them in cereals, oranges, grapes, tea, and soy.
Potassium improves the balance of calcium and reduces bone reabsorption by 3 to 6 months. Bananas are a great source.
Bad habits to break
Excess alcohol, smoking, and being sedentary are all bad for bone health
Too much caffeine and salt also have a diuretic effect that is associated with the loss of calcium through urine. Don't drink more than 4 cups of coffee per day.
Eating too much protein can cause kidney disease and decalcify bones, and can also affect the metabolizing of calcium, phosphorus, and vitamin D.
Good habits to build
Do some kind of outdoor activity to get your vitamin D from the sun.
Do a kind of exercise that you enjoy to maintain a healthy weight, conserve bone mass, and strengthen your muscles as a way to prevent falls and fractures.
In addition to the foods mentioned above, eat foods rich in phosphorus, magnesium, and fluoride, and also foods rich in omega 3 fats but low in sodium.
Bottom line: The key to preventing osteoporosis is to get enough calcium from your earliest age and maintain it throughout your life, along with exercise. You won't need supplements unless your food intake is not enough to get the recommended amount of calcium and vitamins, or if your bone health is already compromised.
Read more:
What is the ideal diet when you're going through menopause?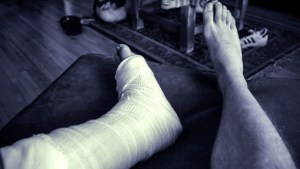 Read more:
My broken ankle blues
This article was originally published in the Spanish edition of Aleteia and has been translated and/or adapted here for English speaking readers.