Social interaction is the foundation that human health and happiness is built on.
Moving to Ave Maria University in Naples, Florida, was a jarring experience. In Vegas, where we lived for three years, our family was almost totally isolated. We had a few friends but rarely saw them. In fact, most of my social interaction happened with the staff at our local Trader Joe's. As an extrovert, the isolation was stifling, so I ended up at Trader Joe's almost every day (whether we needed anything or not).
But over the years I got used to social interaction happening on my terms. So when we moved to Ave Maria I was unprepared for things like neighbors knocking at my door in the morning, or neighborhood children scampering through our house. It only took me a few awkward encounters before I learned to put a bra on the second I got out of bed, but it took me a lot longer before I got used to unexpected social interactions.
For most of us, this is modern life. Social interaction is something we have to seek out, not something that's interwoven with daily life. And people are starting to realize that that's a huge problem, because loneliness is more detrimental to our health than obesity or smoking. There's a growing movement among Americans of all ages to create intentional communities of various kinds to reclaim the "village" we've lost. Time recently profiled a few of these communities, including Commonspace, a "co-housing" community made of up private apartments surrounding common living spaces on two floors of a restored office building.
"We evolved to depend on our social connections," says Dr. Vivek Murthy, former U.S. Surgeon General. "Over thousands of years, this got baked into our nervous systems — so much so that if we are feeling socially disconnected, that places us in a physiologic stress state."

For each of the communities, the relative compactness of the population is what creates the feeling of togetherness. "You can't possibly know three hundred people," says Troy Evans, real estate developer and the co-founder of Syracuse's Commonspace. "But you can know fifty. What we try to do in Commonspace is create a neighborhood in a building."
These intentional communities might seem new, but they're really an old, traditional way to solve a new problem of social disconnectedness. Modern life has made it possible, for perhaps the first time ever, to survive without depending on other humans. But the fact that we can theoretically survive without a village doesn't mean we can live without one. Social interaction — especially the daily, unexpected kind — is the foundation that human health and happiness is built on.
It still takes time to get used to it. I used to be irritated when someone knocked at my door without calling first because it felt like an intrusion, but now I welcome it. It's good to be seen and needed, and to see and need other people.
Some days no one knocks and I don't see my neighbors on the way in and out, and that's fine too. But after a few days like that in a row I start to feel unbalanced, invisible. My neighbors keep me grounded and connected (and fully clothed at all times, thank you very much), and I do the same for them. That's what being human is all about.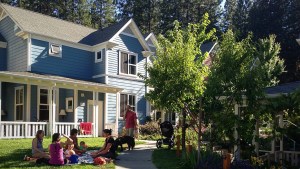 Read more:
Is 'co-living' a housing solution for modern times?