Connectivity is part of the solution, but the government is probably powerless to stop it.
Need an idea for Lenten almsgiving?
Help us spread faith on the internet. Would you consider donating just $10, so we can continue creating free, uplifting content?
Make a Lenten donation here
As the loneliness epidemic rages on, the UK has come up with a novel solution: the brand-new position of "Minister of Loneliness." Given that half a million British people over 60 say they talk with only one person once a week or less, and doctors report up to five patients a day are making appointments simply to have someone to talk to, there's no question that loneliness has become a public health hazard. The effects of loneliness are well-researched: it is more dangerous for overall health and life expectancy than severe obesity, and as detrimental as smoking 15 cigarettes per day.
Yet it remains unclear exactly what the UK's new Minister of Loneliness, Tracey Crouch, will be able to do to stem the tide. Some suggestions have been proposed at CityLab:
Stronger political advocacy on loneliness could, for example, affect thinking on public transit. If a bus line is re-routed or canceled, authorities could be encouraged to consider the effect that might have in raising social isolation for people who live along the route — an effect that could potentially raise their costs elsewhere. A minister could also provide guidance and support to businesses that regularly make home visits, like plumbers or electricians. Those employees could be trained to spot signs of acute loneliness — and if possible, provide some social contact to help lessen it.
While I appreciate the initiative and outside-the-box thinking, current widespread loneliness wasn't created by the structure of bus routes or business interaction. It was largely created by the rise of smartphones and the obsession with connectivity online, which combine to undermine existing relationships and at the same time, make it harder for us to form new friendships.
Although it's easy to point at social media as the great relationships killer, there are other factors at play. I have a friend whose grandmother insists that the advent of air conditioning destroyed social networks and personal relationships. She tells stories about how the world was when she was a young mother, when the heat of the afternoon set in and all the mothers on the block would come outside to escape the stagnant air. They would gossip and hang laundry and let the kids play until the evening cooled off and they could go inside and cook dinner.
It sounds idyllic, maybe even far-fetched, but it's true that simple moments of everyday connection like hanging laundry with a neighbor or drinking iced tea on the porch lay the foundation for relationships. Those things disappeared with modern conveniences like washing machines and air conditioning.
Just as with social media, though, that's a genie no government minister can put back in the bottle … and really, we wouldn't want to return to a life without the "conveniences" we now rely on. But it's worth thinking hard about those lost moments of real connection, and how we can intentionally build them back into our lives.
A few minutes of conversation with the plumber or a doctor simply don't suffice to assuage true loneliness. We need to start thinking less in terms of "connection" and more in terms of building relationships. All of us, from private citizens to government ministers, have to find ways to build face-to-face interactions with our friends and neighbors back into daily life — and no, Facebook Messenger doesn't count. It's only through such a united, concentrated effort to prioritize and revitalize everyday relationships that we can hope to turn the tide of crippling loneliness.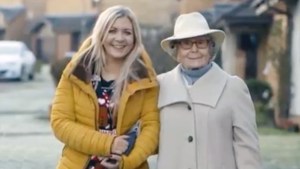 Read more:
Watch how this 96-year-old woman is helping to end loneliness among the elderly (VIDEO)