"I can't think of anything…"
As soon as Padre Pio had died, the nurse was called by a nun to return to the hospital, since he was the only nurse on shift in his unit. On the way, Miscio met a journalist who wanted news about the friar. "I said to him … what should I tell you, right now I can't manage to think of anything." Miscio was shocked by Padre Pio's death.
Pio Miscio and Doctor Scarale are currently the only two people still alive who were present at St. Pio's death.


Read more:
Who smiles like this near the moment of death?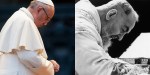 Read more:
Padre Pio's recipe for joy, according to Pope Francis




Read more:
My mystifying and miraculous "spiritual childhood" with St. Padre Pio


~
This article is translated and adapted from Aleteia's Italian edition.