Darerca: Pronounced Darh-erka
Americanized: Dareka
County: Kerry
Admittedly one of the trickier names to bear, but nonetheless one belonging to the alleged sister of St. Patrick, who is said to have had at least 17 sons, all of whom became bishops. As a saint herself, a mother of saints, and of course, as sister to the Apostle of Ireland, your child will be in great company. And who knows, perhaps she'll go to have a large family herself!
Fidelma: Pronounced Fi-del-ma
County: Armaugh
Fidelma "the red" was the sister to Eithne "the fair," with both dying at the Well of Clebach. Along with her sister, she is included in the Acts of St. Patrick, and the fact that St. Patrick built a church in their honor is testament to his reverence for them. The relics of the two daughters of King Laoghaire of Ireland were moved to Armagh, demonstrating the importance of these two early saints. Both were said to be beautiful, intelligent, and godly.
Ite, Ide: Pronounced Ee+da
Americanized: Ita
County: Limerick
Meaning "thirst for holiness," Saint Ite, baptized Deirdre, was born in 480 in County Waterford. As a devout young woman she moved to Killeedy in County Limerick and founded a small convent. With a gift of prophecy and "spiritual discernment," she was held in great esteem by contemporary religious men and women and was foster mother to many future saints. She believed God loved best: "True faith in God and a pure heart, a simple life with a religious spirit and open-handedness inspired by charity." The site of her grave is still a place of pilgrimage today.
Maire: Pronounced My+ra
Americanized: Myra or Mary
Although this name is not attributed to an Irish saint as such, it is one that belongs to a beloved saint worldwide. As the original name in Ireland for the Holy Virgin, it was held in such respect that it didn't come into use until the 15th century, with the alternative spelling Murie not used at all. So if you are after an alternative to Mary then this is a pretty option steeped in Irish tradition.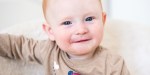 Read more:
Irish saint names for your baby boy