There's no answer to the why, but he does give little glimpses.
My faith journey often feels like I'm straddling a spiritual fence — one leg in the land of Steady Belief and the other in a place of Baffled Doubt. Quite often, I think I'd give up on Christianity entirely if not for the historical reality of Jesus. In his humanity, Our Lord knew hunger, thirst and loneliness. He experienced so deeply the bitter abandonment of friends in the Garden of Gethsemane that he sweated blood.
These are the realities the Venerable Archbishop Fulton Sheen discusses in the video below. The film montage, recently compiled by Thing in a Pot Productions, opens with scenes of tragedies common to man. From the burning of the Hindenburg, to a mom talking about how she can't feed her kids, to scenes of refugees fleeing violence, the images are interspersed with artwork depicting Christ's crucifixion. Sheen's distinct voice, lifted from his popular 1950s TV program, hovers over the scenes:
"Does God know the pain of my migraine headache?" he asks.
An MRI brain scan then flashes to the bloody face of Christ on the cross. Sheen answers his own question: "He wore a crown of thorns."
I stumbled on this video during a coffee shop discussion with a friend. I played it for her on my smart phone after she hit me with the age-old dilemma: "Why does God allow suffering?"
And while I recognize Sheen doesn't answer the why part of this question, because he can't — such an answer isn't spelled out anywhere in Scripture or sacred tradition — he focuses on the fact that Christ shares in our sufferings.
"All the more reason for him to take our sufferings away!" My astute and caffeinated friend added. I could only nod my head: "You've got a point — except for the fact that God is God and we're not."
I quickly referenced the book of Job — as I do every time the newsreels flash pictures of tsunami-destroyed villages:  "Where were you when I laid the foundation of the earth? Tell me, if you have understanding …"
In the Bible, God never explains the why of Job's sufferings. He simply presents himself in his own goodness, and the stark contrast of his divine nature to that of Job's human nature. And as we heard at Mass on Sunday:
the foolishness of God is wiser than human wisdom, and the weakness of God is stronger than human strength.
That's enough for Job, but it wasn't enough for my espresso-cranked friend.
Read more:
What's terribly wrong with "God needed him/her in Heaven" or "He only takes the best"
She was rolling her eyes at the mention of the Bible when a picture of a hospital room I'd recently occupied flashed to mind. So I told her about the time I knelt praying beside my son's bed after the sniffles spiraled into life-threatening pneumonia within a few hours. A priest was administering Anointing of the Sick to my 3-year-old and the male nurse, Joe, stayed with us even though he'd long finished his duties. I'd had the pleasure of getting to know this kind, burly fellow in the previous few days. Joe had been raised Catholic but was now "spiritual — not religious." He brought Ezra blue slushies and gave me white medical tape to attach a crucifix to the bedpost.
When I opened my eyes during the priest's prayer, I was surprised to see Joe kneeling. His hand was over his heart and his eyes were misty. In that moment, it was as if the hospital's walls were busted through with sledge-hammer-sized holes and God's piercing light was streaming in, blinding us all with his love. Because this love was everywhere — from the mutual blessing of our family's relationship with Joe to the many folks who reached out to us in our time of need to the pediatrician who shared her infertility struggle with me and landed in my rosary for months.
The suffering busted holes in the walls of my life so God's blinding light could stream in.
It also loosened my white-knuckled grip on this life. In realizing I could actually lose my child, the suffering fueled my hunger for heaven. It fanned the flames of desire to "finish this race," and to live in a way worthy of the reward of my eternal home  (2 Timothy 4:7).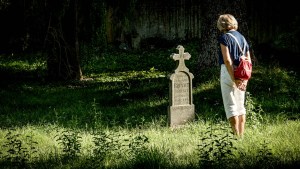 Read more:
Why does suffering seem so unevenly distributed, God? Why is my cross so heavy?
Fortunately, Ezra made a complete recovery, and the sense of God's presence during that trial is an experience — like so many others — that sways me on this spiritual fence, knocking me a little more over to the land of Steady Belief.
And while I may never know the fullness of why God allows suffering, when I meditate on his pierced hands and feet, his crown of thorns and his wounded side … when my own hardships (large and small) make me cling to this Suffering Savior in a deeper way, I catch a little glimpse.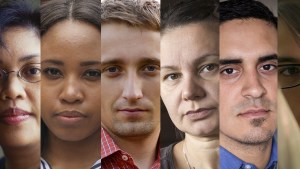 Read more:
With his 7 last words, Jesus speaks to us all
Read more:
Diverted Bullets and a Child Saved