New scientific discovery shows the social construction of race.
"Cheddar Man," the oldest skeleton ever discovered in the U.K., was originally assumed to be light-skinned, but new technology has enabled better DNA testing, which has revealed a different story. After cross-referencing genetic sequences with modern inhabitants of the same area, researchers at the National History Museum have discovered that Cheddar Man would have had a strikingly dark complexion.
From an evolutionary perspective, all humans descend from the Paleolithic Africans, from whom Cheddar Man would have inherited his appearance. This discovery has surprised many by implying that the first British inhabitants were brown-skinned and not fair. But far more interesting is that contemporary racial labels are a relatively recent idea in human history; in fact, our common African ancestors mean that race is not a biological reality but a socio-cultural construction.
One contributor to the project, Dr. Yoan Dieckmann said, "The historical perspective that you get just tells you that things change, things are in flux, and what may seem as a cemented truth that people who feel British have white skin, through time is not at all something that is an immutable truth."
You can read more about the discovery here.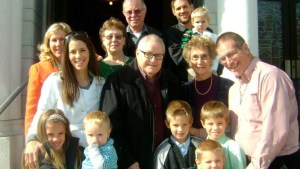 Read more:
Pilgrimage to history: Family traces paths of forebears in the Church