Depends on your motive. Here's how to decide.
Need an idea for Lenten almsgiving?
Help us spread faith on the internet. Would you consider donating just $10, so we can continue creating free, uplifting content?
Make a Lenten donation here
Growing up, I was always bothered by my parents' habit of sharing everything with each other. If I discussed something in confidence with one of them, the other was bound to be told all about it. Even when I pleaded with them not to disclose something to the other, it was futile.
Now that I'm married, I understand, and even appreciate, full disclosure between spouses, especially when it comes to issues with their children. Being equally aware of what's going on with kids and coming to a mutual decision on how to address it is what makes parents stronger together.
But I often wonder about this when it comes to issues with other people, like friends or extended family members. Is it okay to share and discuss those with my spouse, or does that constitute gossip?
Until recently, I tended to believe that conversations between my husband and me could always innocently include the flaws and problems of other people. As long as the information remained between us and was shared with a merciful, neither condemning nor prideful, good-thing-we-don't-have-that-problem type of tone, it was just another one of our dozens of harmless, daily exchanges.
The experts, however, including St. Thomas Aquinas, beg to differ. As Msgr. Charles Pope explains in relaying St. Thomas' definition of the sin of detraction: "What is said is true, but is not necessary information to be shared, and the information has the effect of diminishing a person's reputation or harming their good name before others."
Examining your motive before opening your mouth
So before I say something about someone, I need to ask myself if this is necessary information to share with my husband. What's my motive in doing so? How will it affect him? How will sharing it affect me?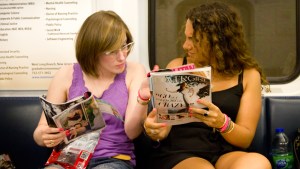 Read more:
Confessions of a (hopefully recovering) gossip junkie
"There are two people that you need to know really well in this process and that is yourself and your spouse," notes Pastor John Piper, founder of desiringGod.org. He goes on to explain that although discussing the problems or flaws of others can be done virtuously, it's our attitude that has the potential to make it sinful. Essentially, Pastor John advises not to talk about others' issues "if our motives are impure or if we feel jealousy or undue anger … or just the subtle pleasure … of sharing news, especially bad [news.]"
Rarely do I stop to ponder my motive before blurting out something about someone else to my husband. I'm certainly guilty of telling him things simply because of that naughty little thrill that comes from gossip. But I need to determine if sharing this information will ultimately be fruitful, or if I'm just scratching an itch. "Know yourself," Pastor John advises. "Put to death any selfish motives in yourself before you talk about it with your spouse."
The other person he says to know well is my spouse, because it's important to consider how the information may affect him. "Will I be tempting her toward anger or resentment or fear?" Pastor John says in reference to his own wife. In the past, I've made the mistake of telling my husband things about others when doing so was not only unnecessary, but served to build in him resentment toward them.
Is it ever okay to talk about the bad traits of others?
Yes, there are instances in which it is entirely appropriate and virtuous. As one commenter on a Grace Centered message board pointed out, "If the information is a heavy burden or worry to you, then … you may wish to 'lean' on your spouse for emotional support."
Another commenter followed with, "My wife is an extension of me. And when I am sad or [burdened], she feels it as well. Just having each other for prayer partners and emotional 'outlets' is very comforting." In this sense, talk is not gossip, but simply spouses confiding in one another, often for the sake of gaining wisdom as to how a certain issue can be approached.
"In my experience, it seems that gossip more typically is used not to … gain wisdom but to 'vent,' which is to act out of anger," Fr. William Shierer, parochial vicar of St. Timothy Catholic Church in Chantilly, Virginia, noted. "This — even in the hidden place of a spousal relationship — is detrimental to virtue and charity." So not only are we doing harm to those about whom we gossip, but we're dragging ourselves down and weakening the virtue and goodness of our marriage.
Ultimately, gossip is one of those tricky transgressions that are difficult to pinpoint. Often, it's not until after a discussion about someone else that I find myself wondering if I just partook in gossip. More often than not, it's best to err on the safe side and talk about others and their downfalls as infrequently as possible. After all, Eleanor Roosevelt said, "Great minds discuss ideas; average minds discuss events; small minds discuss people."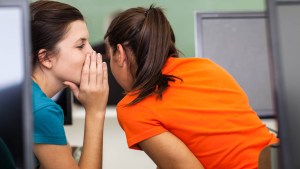 Read more:
Help! How do I escape the office gossip who thinks I'm her friend?