It's through hormones, not in spite of them, that we experience the world.
I've resented my hormones for as long as I've been aware of them. The roller-coaster ride that my monthly cycles brought, the unpredictable mood swings that came with my first pregnancy, the devastating anxiety and depression that accompanied weaning, it has all been enough to leave me with the distinct impression that I can be hijacked at any time by one unreasonable mood or another.
That's how I felt already, and then I developed a condition called Dysphoric Milk Ejection Reflex, or D-MER. It's not well known, but essentially, what happens is that whenever my body needs to produce milk for nursing, the hormone prolactin surges, and the hormone dopamine plummets. For me, this means that every time my body makes a new batch of milk, and multiple times during breastfeeding, I get hit with a brief wave of dread and anxiety. I can predict down to the minute how long it'll be before I feel the milk coming in, just by the sudden hollow in the pit of my stomach that shows up 90 seconds earlier. It's what dopamine depletion feels like.
It's been eye-opening for me, because it's noticeable, and predictable. I'm not usually so clued in to my hormonal peaks and valleys, but suddenly, it's obvious. When the inner workings of my brain's neurotransmitters are more subtle, I don't differentiate the effect of the hormone from myself, my personality, my choices. But these, unlike my pregnancy-induced mood swings, say, are not ambiguous. I know the problem isn't me, it's my brain.
Of course, few women experience the same effect of breastfeeding, just as not all women react to the effects ordinary hormonal shifts as strongly as my brain seems to do, but in a way, I'm grateful for the D-MER. It's so noticeable that it's helping me completely re-evaluate my attitude toward my hormonal changes.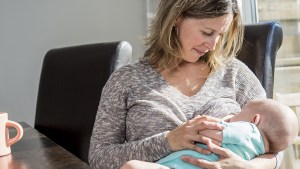 Read more:
Why American moms find breastfeeding harder than other women
I generally respond to these shifts and bumps by disowning the experience, as though there's some kind of unchanging person behind all the ups and downs, who has nothing to do with the hormonal shifts themselves. I say, "I'm not myself today," referring to PMS, or "I'm fine, it's just the darned prolactin," when my husband spots that familiar look on my face. I talk as though whatever's affecting my mood is immaterial to who I actually am, a kind of hostile takeover.
Here's the thing, though. Hormones affecting our moods is absolutely not a women-only kind of problem. First of all, men go through hormonal shifts too. Not monthly, but daily, seasonally, and through their lifetime. There's no obvious physical marker of the change, but it's just as real. And hormones are subtle little buggers. Dopamine, for example, plays a part in everything from the satisfaction we get from getting "likes" on Facebook to our ambition to succeed in life, but you don't really notice it. Serotonin, oxytocin, testosterone … these and others influence our attachments, habits, sense of peace, excitement, fear, confidence, satisfaction, and more.  
It's through hormones, not in spite of them, that we experience the world, whether or not we're aware of them. There's no getting around that. Our bodies affect our moods, the bad and the good alike. Of course, bodies can malfunction, and we feel the effects of our hormonal balances disproportionately. (That's been a major factor in my own experience with mental illness.) But it's the imbalance that's the problem, not the hormones themselves.  
The big problem with having an attitude that says "I'm not myself when I'm feeling hormonal," is that we're acting like the truest version of ourself is the one who is fed, rested, and having a great day — as though when our mood is influenced negatively, it doesn't count, but we get full credit for being a well-adjusted person when something is influencing our mood positively.
I'm trying to remember that my identity doesn't have anything to do with my mood. Although I have some control over what I feel, there's literally always something that's influencing my mood, for better or worse. That's not my fault, and it's not just a problem I have, or a problem that women have.  Nobody on earth doesn't have hormones in their system. Instead, my identity has to do with how I'm reacting to that mood. Am I lashing out? Am I beating myself up for feeling unhappy? Am I wallowing in self-pity, or trying to push through it?
It's much easier to try to take control of my actions, rather than raging against emotional peaks and valleys that I can't change by willpower alone. And remembering that it's the actions that matter has helped me be a bit more compassionate towards myself, especially on the hard days.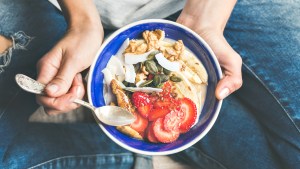 Read more:
6 Nutrients that help you stay in a good mood