These natural remedies can be whipped up from the comfort of your own kitchen.
It's no secret that this season's bout of the cold and flu viruses has been particularly nasty. While my family has been fortunate enough to avoid the flu (so far!), my 1-year-old and I are currently recovering from The Worst Head Cold Ever (TWHCE) for the third time in less than two months. Unfortunately, one of the casualties of this particular cold has been a good night's sleep, as my son and I have found ourselves coughing ourselves awake each night, and my husband – who has inexplicably avoided all three bouts of TWHCE – has found himself awakened by the coughs of his two sick roommates.
If your family is in the same boat as mine, and you're looking to avoid using cough medicine, which may actually be ineffective, anyway (or you just don't want to brave the drugstore to purchase any), take a look in your pantry, refrigerator – and yes, even your liquor cabinet – for some of these natural remedies that can be whipped up from the comfort of your own kitchen.
1. Honey
Mary Poppins liked to say that "A spoon full of sugar helps the medicine go down," but as it turns out, a spoonful of the sweet, golden stuff produced by our bee friends may be medicine enough. According to one study, a few teaspoons of honey administered at bedtime to children age two and older seemed just as effective as the active ingredient in common over-the-counter (OTC) cough suppressants. Just remember that children under the age of 12 months should never be given honey, due to the risk of infant botulism.
Apparently, this next one is nothing new to the Amish community, who have long used a homemade cough remedy containing pineapple juice. While claims that pineapple juice is "five times more effective" than OTC cough suppressants aren't substantiated, pineapple juice can apparently help thin mucus, which can assist people in clearing the yucky stuff which often causes coughing. Plus, who doesn't need a little tropical ray of tasty sunshine in a glass in the midst of a very long, bleak winter?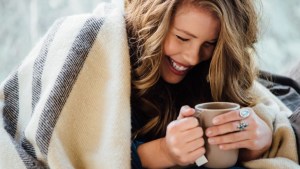 Read more:
Natural ways to avoid catching a nasty cold or flu virus
3. Salt water
Speaking of salt, the old professional singers' trick of gargling salt water to lubricate the throat before a performance could be just as good at relieving a cough. It's just about the simplest solution anyone can make, but it's something that even the Mayo Clinic Book of Home Remedies recommends. The salt helps reduce inflammation, which can be a factor in a cough or sore throat, and gargling helps loosen irritants – like mucus – that sit unwelcomed in the back of your throat. Just dissolve half a teaspoon of salt in warm water, gargle, spit, and repeat as necessary. Doing so might even be preventative against catching a cold, so consider gargling salt water even if you're the last man (or woman) standing in a sick household.
Fruit juice not your thing? Then file this one under the "good news" category: apparently, a compound found in chocolate and cocoa (theobromine, to be exact) can help relieve a cough. According to this study, the compound can help sooth a cough as well as – and perhaps better than – codeine, the active ingredient found in many over-the-counter cough medicines. So maybe the next time you have a cold, try a hot chocolate if your honeyed tea (or pineapple juice) just isn't cutting it for you. Make it with hot water instead of milk if dairy increases your congestion.
5. Hot toddy
Although chocolate is a delicious, novel, and possibly effective natural cough remedy, a hot toddy is definitely my personal favorite way to quiet a cough – especially before bed. Hot water, whiskey, lemon juice, and honey (and tea, if you'd like) come together in this old, delicious remedy, which comforts and soothes all at the same time. The whiskey will help you sleep, the honey will soothe your cough, and the lemon and/or tea will provide you with antioxidants like Vitamin C needed to boost worn-out immune systems: it's a delicious triple-threat of a home remedy.
If your family – like mine – is still battling the barrage of cold and flu viruses that this season has thrown at us, hopefully we'll all feel better soon. But in the meantime, give some of these home remedies a try – even if they don't work, at least a few of them will be a delicious treat.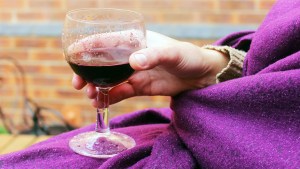 Read more:
The alcoholic drink that can help you fight the flu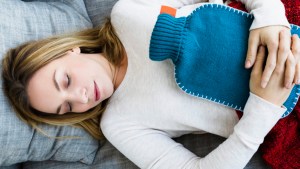 Read more:
7 Science-backed alternative remedies for cold and flu