It starts with how we erroneously define "success" for them.
When I was in college, the university offered a counseling service that very few students took advantage of. There was a much higher stigma attached to seeking counseling in 2003 than there is now in 2018 … which might be one reason why record numbers of college students are seeking treatment for anxiety and depression.
But it can't account entirely for the astounding surge in anxiety and depression among college students that Time magazine recently reported on:
Between 2009 and 2015, the number of students visiting counseling centers increased by about 30 percent on average, while enrollment grew by less than 6 percent, the Center for Collegiate Mental Health found in a 2015 report. Students seeking help are increasingly likely to have attempted suicide or engaged in self-harm, the center found. In spring 2017, nearly 40 percent of college students said they had felt so depressed in the prior year that it was difficult for them to function, and 61 percent of students said they had "felt overwhelming anxiety" in the same time period, according to an American College Health Association survey of more than 63,000 students at 92 schools.
Did you catch that figure from last year? Nearly half of college students said they had felt so depressed that it was difficult for them to function. That is not a bad case of the blues or post-breakup melancholy. That is serious, clinical depression.
Perhaps the worst part of this is the cultural response to our increasingly disenfranchised, depressed young adults. The media mockingly terms them "snowflakes," jeering at their genuine pain and distress with contempt and dismissal. In the meantime, universities struggle to provide these students with the mental health care they desperately need — care that is increasingly prohibitively expensive.
So how did we get here? I have lots of theories, starting with cell phones and social media, but one thing that seems to be overlooked in the discussion of mental health and college students is the unhealthy (and erroneous) weight our culture places on a "college education."
When I graduated from high school in 2002, almost everyone went to college. Although it was frowned upon, it wasn't unheard of for someone to go to a trade school. Now, everyone goes to college. It's considered every bit as important to have a college diploma as it is to have a high school diploma, and there's enormous weight placed upon college students not just to succeed in college but to excel, to distinguish themselves, to set themselves apart.
The national conversation on college education has changed dramatically in just the last decade. College kids know that their diploma is no guarantee of a good job when they leave school — in fact, it's no guarantee of a job at all. The stories of college students facing crippling student loan payments on a minimum-wage salary are ubiquitous. Every college kid knows that could be him or her in a few short years, so it's no surprise that rates of anxiety and depression have skyrocketed.
In fact, between the grossly unethical student loan business and the stagnant job market, the fact that college kids are suffering from unprecedented levels of anxiety and depression shouldn't be a surprise. Today's college kids have been set up for failure, and they know it.
It's time to stop encouraging college kids to saddle themselves with massive debt in exchange for a four-year degree that just might get them a job that will allow them to pay back that debt. It's time to start encouraging high school and college students to learn a trade, skills that are valuable, unique, and desperately needed in our country. It's time to remind college kids that college is not round two of high school, that employers could care less about their GPA or how many cords they wore around their neck at graduation, and that their grade in Demystifying the Hipster (an actual class at Tufts University) will literally never matter. Never.
In short, it's time to take the college-related pressure off high school and college kids. College isn't the be-all-end-all of adult life, so let's stop acting like it is.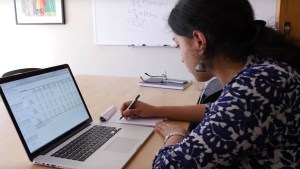 Read more:
Now you can get a master's degree at MIT without a college diploma