Ieshia Camps' incredible accomplishment was possible because of her kids.
When Ieshia Camps was 7 years old, she dreamed of one day becoming a lawyer. But by the time she was a teenager she was homeless, pregnant with her first child, and had dropped out of high school to work at a call center.
"I really didn't have any stable guidance at that time," she told CBS. "My mom was addicted to drugs. My dad was deceased. And I was homeless. I lived with friends or whoever would take me in." Later, while pregnant with her fourth child, she lost her home, her job, and her children's father to cancer in the space of a year.
When all seemed lost, she says she contemplated suicide, but an unexpected call from her pastor saved her life. Ieshia said, "Pastor Louise Holman called me one day and said that God told her to tell me to go back to school and get my GED, because that lawyer I wanted to be, I'll be it!"
After completing her GED, she earned her bachelor's from the University of Houston-Downtown and will now graduate from Texas Southern University's Thurgood Marshall School of Law in May. To celebrate her upcoming graduation, she posted photos with her five kids, whom she credits with helping her through school.
Single mother of 5 proudly poses with children in law school graduation photos: 'We did it' https://t.co/KaD7FLfHSbpic.twitter.com/LSzDxjet37

— Yahoo Life (@yahoolife) April 11, 2018
"[My kids] would help me review with flash cards while I cooked. They would sit as a mock jury while I taught them what I learned that day," she said. "I would sit in my closet and pray and cry because I was overwhelmed and my oldest son, David, would gather his siblings, give them a snack, make them take a bath, gather their school clothes, all to make things easier for me. And I had no knowledge of him doing that until I went to do it!"
@Gidi_Traffic WE ARE CHAMPIONS: 33-year old Single mother of 5,Ieshia Champs proudly poses with children- E'mani, 5, Kaleb, 8, Khassidy,11, Davien, 12, and David, 14, in law school graduation photos: 'We did it ' pic.twitter.com/7iEDogmzx0

— AustynZOGS (@Austynzogs) April 12, 2018
With her faith and perseverance, Ieshia has overcome all barriers to accomplish her goals. Now, the photos have gone viral as thousands celebrate Ieshia and her family's success with them.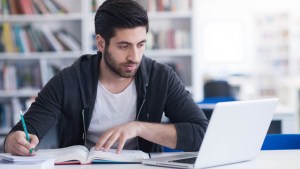 Read more:
The top online college programs, ranked by U.S. News and World Report