The death-obsessed villain of the latest Marvel sequel is no match for its heroes.
Thanos. The name says a lot about the guy. His creators at Marvel presumably took it from Thanatos, the ancient Greek personification of death. And indeed, Thanos has been pretty much obsessed with death since his comic-book birth.
In Marvel's original imaginings, Thanos is one of the Eternals, a nigh-invulnerable race of uber-powerful beings who lived on Saturn's moon Titan. But he was big and ugly for an Eternal (who are typically quite attractive), which nearly got him killed by his own mother and made him a target of mockery and abuse by … well, whoever would be likely to mock and abuse a titanic demigod.
By the time he was in his adolescence, Thanos was a confirmed nihilist and fascinated by death. Only one female could catch his eye, and that just happened to be a buxom Grim Reaper. "As conceived by comic-book writer Jim Starlin, Thanos only wants to kill off half the universe to impress a feminine manifestation of death itself," writes Vulture's Kyle Buchanan. "You've gotta admit, that's a new one."
The Thanos we meet in Avengers: Infinity War, in theaters this weekend, isn't trying to literally woo death through wholesale murder. Sure, he's still hoping to kill off half the population of the universe. But for many in our culture, Thanos' motives (if not his means) feel … worthy.
Thanos wants to kill half of all life so that the other half can live well.
In Infinity War, we see a flashback of when Thanos conquered the planet of his adopted daughter, Gamora. Thanos' soldiers line up countless of innocent people and slaughter them (including, presumably, Gamora's mother). But now, when he tells Gamora what her home world looks like in the aftermath, he says that it's a paradise: Enough food and enough land for everyone.
In Infinity War, Thanos may not be the unadulterated nihilist he was in the comics. His philosophy of "universal sustainability" may feel horrific, even insane. But the motive behind his madness is, for some, understandable. Food, water and space are all finite resources on the planet, and certainly those are real challenges.
But do those challenges outweigh the wonder, beauty and miracle of life?
Not for the Avengers.
Throughout Marvel's movies, the studio's array of superheroes have regularly fought enemies who believed peace was most perfectly found in death.
"I will put an end to this poisoned universe," the dark elf Malekith says in Thor: The Dark World.
"We don't seek to rule this world," Kaecilius, an acolyte of the nihilistic entity Dormammu, tells Doctor Strange in his movie. "We seek to save it."
The sentient robot Ultron from Avengers: Age of Ultron was designed to create "peace in our time." But he then comes to believe that "There is only one path to peace: Your extinction."
But our heroes know better. The only way to a better life is through … life. Preserving it. Protecting it. Saving it wherever and whenever they can.
Steve Rogers/Captain America risks his own life to save that of an old friend, Bucky Barnes, who constantly tries to kill him. Thor puts himself in the path of a gigantic automaton for a strange, alien (to him) people. The Guardians of the Galaxy literally grab an Infinity Stone — essentially a cosmic live grenade that blows up whole worlds, not just people —nin a desperate attempt to save a planet. And on it goes.
And without giving anything away, so it is in Infinity War, too. Thanos believes that killing some few trillions is justified to better the lives of others. Iron Man, Captain America, Black Panther and the rest stand in the breech against this philosophy. No, they say, again and again. A thousand times, no. The ends never justify the means. 
Thanos is ready to kill trillions for the universe. Marvel's heroes are ready to die for it. That's what makes them heroes.
But the movies themselves offer an explicit, unmistakable message: Life is good. Life is beautiful. Life is worth saving and preserving, whatever the risks and whatever the "wise" might say.
Choose life, these movies tell us. The heroes do it again and again.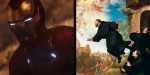 Read more:
If Marvel's Avengers were saints