For him, man can not "own" the truth, but only draw close to it
Pope Emeritus Benedict XVI dedicated his life to "seeking the truth and fighting for it," says his private secretary, Archbishop Georg Gänswein.
The prelate spoke this week at the Italian Senate during the presentation of a new collection of texts by Benedict XVI, titled Liberare la libertà (Freeing Freedom).
For Benedict XVI, explained Archbishop Gänswein, the political idea coincides with the theological concept that is "most important" for him: namely, truth. This is also at the heart of his episcopal and papal motto: "Cooperator of the truth."
Seeking truth and fighting for it can therefore be seen as the "golden thread" of Benedict XVI's life, even while he was still a young theology professor in Germany. For him, man can not "own" the truth, but only draw close to it: for Christians, he believed, Christ is the truth made man.
The Pope Emeritus views this approach of seeking truth as the foundation of Europe, explained his private secretary. Believers and non-believers of European culture can thus find themselves in this quest. Europe is a "unique cultural space" and has become Benedict XVI's "political passion."
During his pontificate in particular, continued the German archbishop, the predecessor of Pope Francis was committed to reminding Europe of the need to be rooted in natural law. Otherwise, it is no longer possible to distinguish between "the real right and the only apparent right," and the state becomes an "instrument for the destruction of the law," said Archbishop Gänswein, repeating Benedict XVI's words to the German Parliament in 2011.
The "subjective truths" introduced by democracy
Europe's values ​​are "Christianity, humanism, and natural law," added Antonio Tajani, President of the European Parliament, who also spoke at the presentation.
For the Italian politician, the European Union can regain its dynamism only by being "strong" in its values ​​and thus its identity — and not by virtue of institutions.
For the President of the European Parliament, this collection of texts from the 265th pope is "very useful" for politicians, because it reminds that the truth is the "limit of the State." Political activity must therefore serve man by seeking the truth. And it must avoid being distracted by the "subjective truths" that are sometimes introduced by democratic systems.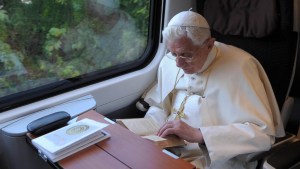 Read more:
We might still have surprises from Benedict XVI, says Cardinal Ouellet