Don't dismiss it as purely a phase, but don't make a huge deal out of it, either.  
What can God do in your life with one Bible verse a day?
Subscribe to Aleteia's new service and bring Scripture into your morning:
Just one verse each day.
Click to bring God's word to your inbox
Q. My teen son just announced to us that he's not sure he believes in God. He's been challenging us lately and looking for proof that God does exist. I'm looking for ideas on how to respond and handle the situation. We aren't sure how much of big deal we should make out of this and wonder whether this isn't just a pretty normal phase of figuring out what you believe. What is the best way to respond to him?
A. That is a really tough situation, but more typical than you'd think.  
Many times when our children challenge religious beliefs, it also becomes a major test for parents. Kids are inquisitive and highly perceptive. They ask questions, hard questions, about things we've never considered much or have completely taken for granted as a known fact. When this happens we as parents can find ourselves stumbling to provide adequate answers. Luckily for you, this can be easily remedied. Hit the books and take a refresher course. Arm yourself with knowledge so you can confidently answer your son's most frequently asked questions.
You ask if this is just a phase or if you should make a big deal out of it. When a child starts to lose or question their faith it's always a serious matter, but overreacting can backfire and only drive them farther away. The questioning that young adults and teens do is pretty typical of young people. I would call his inquisitiveness a "searching" more than a "challenging" of faith. He is looking for concrete ways to make what he was raised to believe line up with what he's seen and experienced in his own life. So while I wouldn't dismiss it as purely a phase, I also wouldn't make a huge deal out of it.   
My own son went through a similar period right before his confirmation. Concepts like transubstantiation require a lot of faith. Unfortunately, it can sometimes take a lifetime to develop a strong sense of fatih. We can look at the scriptures and Eucharistic miracles as evidence but at the end of the day it falls to us whether we accept these signs as proof or not. Ultimately my son realized that a 13-year-old kid didn't know more than the Gospels.
For your son, looking for proof that God exists can encompass several common themes. If God exists, why is there suffering, disease, cruelty, injustice, and poverty? If He is real then why doesn't He directly answer my prayers? Why would He not make Himself known in obvious ways as in the Old Testament?
Again, these questions are very common and have been asked by probably all of us at some point in time. If Catholicism were easy then everyone would be Catholic. What kind of religion would we have that required nothing from us and in turn did not challenge us? Without challenge there is no room for growth. With that, I would even suggest that you encourage your son's questions and tell him to never stop seeking the Truth.
There are several resources readily available that answer these questions and address the very concerns your son is expressing.
My son found

Amy Welborn's

Prove It!

 series

, available on Amazon, extremely helpful. He appreciated that it wasn't written condescendingly. It was very concise and straightforward.

When I was just learning about Catholicism, before my conversion, I read a lot of apologetics books, like

Karl Keating's

What Catholics Really Believe

and

Scott Hahn's

Rome Sweet Rome.

Nowadays you can find podcasts that offer entertainment and education.

Brandon Vogt

and

Word on Fire

also have a lot of resources and online courses that you and your son might find interesting. Of particular interest is

ClaristasU

, which aims at helping people answer the tough questions your son is asking. There is also a lot to be said for just reading about the lives of saints, many of whom shared the same struggles as your son.
Outside of books and new media, the best and most effective proof we can offer our children, and anyone who doubts God's existence, is to be a living witness to what we proclaim to believe. Let our own love and belief in God and His Church guide our words, actions, and thoughts. Live a full, rich faith and thank God for everything, even the struggles and pain as they are chances to grow in faith and holiness. It's hard to doubt God when you're in the presence of someone whose life is shaped by Him.
I think with a lot of prayer, a little knowledge, and a dose of compassion this challenge will become a genuine chance for everybody in your family to grow closer to Christ.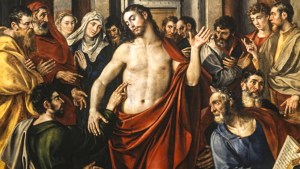 Read more:
Questioning your faith? Follow 'Doubting Thomas' and stay close to the 'Believing Church'