Early diagnosis of Sensory Processing Disorder can help children dramatically.
What can God do in your life with one Bible verse a day?
Subscribe to Aleteia's new service and bring Scripture into your morning:
Just one verse each day.
Click to bring God's word to your inbox
When my sister was a kid, she couldn't stand getting her hands dirty. And I don't mean that she preferred to keep them clean and would wash them ASAP after playing in the mud — I mean she literally wore socks on her hands when she played in the sandbox.
It's become something of a family joke, and all my kids know the stories about Aunt Micah playing in the sand with socks on her hands. We always just accepted it as an odd quirk, kind of like my unnerving fondness for sardines. But it turns out that "quirks" like that can sometimes be a manifestation of sensory processing disorder, a little-known and frequently misdiagnosed condition that, according to HealthyWay, might affect up to 5 percent of the population.
"Highly sensitive children have debilitating aversions to light, noise, pressure," says Michelle Collis, a North Carolina-based speech language pathologist. "Tags and seams can cause light pressure and touch, lights can be too bright, and a small buzzing from a fluorescent light [can seem] so loud the person cannot function."

That's because a highly sensitive person, like a child diagnosed with sensory processing disorders, can't tune out stimuli, and processing literally everything at once can be completely overwhelming.
My second to youngest son, Lincoln, has never liked loud noises. At least, that's what I've always thought. But over the years I've begun to realize that it's not that he doesn't like loud noises — he doesn't like loud noises that are unexpected, or that interfere with his concentration.
Some noises have always bothered him. As an infant, the coffee grinder would wake him from a sound sleep and send him into a fit of screaming; it could take an hour to calm him down. We learned to muffle the noise by covering the coffee grinder with towels, taking him into the farthest room in the house, or even just moving him outside until the grinding was finished.
As he grew up, the blender began to have much the same effect. He would cover his ears and cry, "It hurts Mommy! It hurts me!" until I shut it off. I always figured he was just sensitive to noise and let it go.
But he's not necessarily sensitive to noise. He currently loves the soundtracks from Hamilton and The Greatest Showman, and he will dance in the kitchen and beg me to turn it up "louder, louder!"
But when he's working on homework or coloring and I turn on those same soundtracks, even at a low volume, he will often lose it. "Mommy, the music hurts me!" he'll wail, covering his ears and squinting his eyes until I turn it off. Clearly, it's not a volume issue — it's a processing issue. He's overwhelmed when there are too many stimuli in his environment.
No worries, I'm not going to give him an armchair diagnosis of sensory processing disorder — I'll leave that to the professionals. But I am grateful to be able to make these connections and see that what might look like a sensitivity to noise is likely a sensitivity to being over-stimulated. They are two different things, and helping my son requires me to understand and appreciate the difference and be vigilant about ensuring that his teachers and doctors understand the difference as well.
Being proactive when it comes to sensory and sensitivity issues is essential, because it can help protect kids from being misdiagnosed, or to go without help. Sensory processing disorder is distinct from conditions like autism or OCD, for example. Kids with SPD can benefit hugely from occupational therapy — and the sooner you get them started, the better.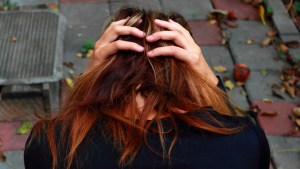 Read more:
What everyone with anxiety needs to know about their 5 senses