If you want your kids to voluntarily help around the house, change your mindset (and start them early).
What can God do in your life with one Bible verse a day?
Subscribe to Aleteia's new service and bring Scripture into your morning:
Just one verse each day.
Click to bring God's word to your inbox
In my house, I am teaching my daughters to do laundry. They do not love this chore. I wouldn't go so far as to say they hate it, because they hate other chores worse — but it's not their favorite. They do it, but grudgingly — dragging their feet (literally, in the case of my 12-year-old) and making zero progress unless compelled by outside forces (namely me). They certainly don't volunteer to do laundry — their own or anyone else's.
In Mexico, however, volunteering to help their family with chores is a highly valued trait in children. In fact, it goes far beyond just doing chores willingly — it's a trait that's hardwired into children from an early age, a trait that has its roots in a fundamentally different understanding of children. And as NPR explains, helping with chores is so important in Mexican culture that there is a complex term for it:
Volunteering to help is such an important trait in kids that Mexican families even have a term for it: acomedido. "It's a really complex term," says Andrew Coppens, an education researcher at the University of New Hampshire. "It's not just doing what you're told, and it's not just helping out. It's knowing the kind of help that is situationally appropriate because you're paying attention." And the phenomenon isn't limited to children in Mexico. When families with indigenous roots move to the U.S., the parents keep the same approach to chores.
As the NPR article goes onto explain, Mexican families start integrating family chores into their children's lives from an early age — and I mean early. Think toddler-early. As in many other countries around the world, Mexican culture has a fundamentally different understanding about what children want than we do in America.
In America, we tend to think that toddlers want to play. And because parents instinctively want to support their children, we support that supposed desire to play by providing our toddlers with endless toys, enriched environnments, and playdates.
In Mexico, parents believe that toddlers fundamentally want to help. And because parents instinctively want to support their children, Mexican parents provide their toddlers with the opportunity to help. Not pretend to help, with a toy broom or a mock kid-size kitchen — actually help. They let toddlers wash dishes even when the water ends up all over the floor. They let toddlers help sweep even when the mess ends up bigger than it started. They let toddlers help peel fruit, help wash clothes, help cook dinner — anything and everything the children show an interest in helping with earns them the opportunity to do just that.
When my oldest daughter was a toddler, I remember how much she wanted to help. I also remember how much her "help" irritated me, because it slowed me down and prevented me from finishing whatever it was I was trying to finish. I almost always redirected her with toys or books.
My youngest child is a toddler right now. He also wants to help, primarily with laundry. When I'm folding the laundry and putting it in the basket to be put away, Isaac helpfully pulls it out, unfolds it, and announces "ta-da!"
Most of the time I barely restrain myself from saying, "Isaac, noooooo!" Usually I can plaster a fake-ish smile on my face and say "thank you!" before hastily moving the laundry basket out of reach of toddler hands.
But it's never occurred to me to show him how to fold, even if it takes twice (or three times) as long. If I take the time to do it now, when he's little and eager to help, it might just save me hours and hours of begging, threatening, and cajoling when he's 12.
And that would be time well-spent.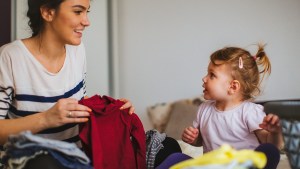 Read more:
The key to teaching your kids to be neat and tidy around the house