Is your day off only a time to get more done? Or a time to spend with the people you love?
What can God do in your life with one Bible verse a day?
Subscribe to Aleteia's new service and bring Scripture into your morning:
Just one verse each day.
Click to bring God's word to your inbox
Pope Francis is officially on vacation. That is, in his (Jesuit) religious style, he rests by reading, working, and preparing his next apostolic trips, while reducing his workload and pausing the general audiences during July. He continues meeting with the pilgrims and faithful on Sunday for the midday Angelus in St. Peter's Square.
Let's see what the pope says about enjoying healthy leisure in the summertime and on vacation.
In principle, "healthy leisure means that Mom and Dad play with their children. Healthy leisure has to do with play, which is deeply connected to wisdom. The book of Wisdom says that, in his wisdom, God played," Archbishop Bergoglio said (The Jesuit: conversations with Jorge Bergoglio Sergio Rubin, by Francesca Ambrogetti, Penguin Random House Group Editorial Argentina, Dec 1, 2014).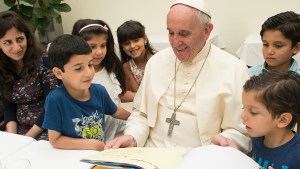 Read more:
Here's the question Pope Francis asks parents of young children in Confession
Playing and "wasting time" with the kids or the elderly are key for a full life. Pope Francis observes with sadness that in the West especially, couples do not want to have children because they would rather make money to buy expensive homes or travel (Interview with Rádio Renascença 14.09.2015). 
Meanwhile, he regrets that vacation time can sometimes be lived in a selfish way that misinterprets the purpose of free time. He says this selfishness is evident, for example, when the "elderly are left alone" in the big cities during the summer, while the rest escape the heat (Interview with Rádio Renascença 14.09.2015).
By observing his Piedmontese family in Buenos Aires, which did not have the money to go on vacation, and the poor parishioners in the Buenos Aires periphery, Jorge Mario Bergoglio learned that free time is an opportunity for divine contemplation and meeting others.
It is about taking advantage of "healthy leisure" that opens up space for interpersonal relationships — to meet new people and cement true friendships, to learn more about our sons and daughters. But what can we do when we feel like servants ruled by a relentless sense of duty, "a spirituality of slaves and not of children?" asks Francis. 
The pope invites us to shout to God about any situation in which we do not feel free. For "we do not save ourselves. But we can let loose a cry for help: Lord, save me. Lord, show me the way. Lord, caress me. Lord, give me some joy." (General Audience 27.06.2018). 
Yes, "a little joy" to live a healthy kind of leisure that connects with others and perhaps even with nature, creation, the world that surrounds us.
The holidays are a time to ignite the flame of creativity, which could inspire us for our future work and also connect us with others and make us feel useful, loved, and needed. 
"Healthy leisure" rejuvenates us in hugs, in smiles, and carefree time spent playing, dancing, singing — looking for God in the smile of a wife or husband, the hug of the teenage son who seems to reject his parents (but who needs it more than ever). It's about rediscovering people that we no longer see due to work or busyness, or because we lost our Christian interest in keeping track of people and being part of a community.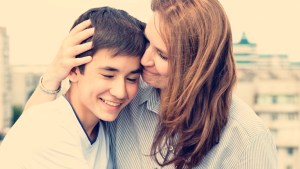 Read more:
Why you need to hug your kids … even when they try to squirm away
The "healthy leisure" to which the pope invites us has a human dimension, because we are all children, brothers, husbands, and friends… and not just workers, clerks, journalists, or executives. It's a logic of the heart that goes beyond the limited ideas of "willpower" and making money.  
In their free time, people can also feel like children who are gratuitously loved by God, without deserving it. It's a time to feel loved by the God who gives so many things, including the chance to celebrate and take a break from the usual grind. 
Of course, being able to go on vacations assumes that we have a job. The pope, analyzing the situation in Europe, knows that young people are the most affected by unemployment or under-employment, deprived of the dignity of earning their bread with their hands. Youth in other places suffer the same issue. "The unemployment rate for young people age 25 and younger is 40% in one country. It's 47% in another, and 50% in another. There is a labor crisis," admitted the Pontiff (Interview with Rádio Renascença 14.09.2015).
In this case, to get out of the selfish idea of leisure, the pope also invites us to be grateful to God. Why not? Thank him for your health, family, and other gifts. He invites us to cling to God with gratitude of heart, because this means "letting yourself be loved."  
Read more:
If you need hope, foster your "Christian memory," says Francis
Maybe you don't have the best job in the world, or you're job hunting, or people in the office are driving you crazy and you desperately need a vacation just to get away from them. Whatever your story, Francis proposes a small exercise in silence, whether you are on the couch at home, on a beach, or in the countryside: "Everyone answer this question in your heart: How many beautiful things has God done for me?" (General Audience 27.06.2018).
This is probably the best way to get a fresh start and make the most of the "healthy leisure" that brings us closer to the mystery of life and our relationships with others.
Read more:
Summer reading: Our picks for books to take to the beach