Why and how you debate can speak volumes about your emotional intelligence.
What can God do in your life with one Bible verse a day?
Subscribe to Aleteia's new service and bring Scripture into your morning:
Just one verse each day.
Click to bring God's word to your inbox
When I was growing up, there was a lot of focus on IQ as the measure of potential for future success. And yet, it seemed like the more we learned about IQ, the more we began to see that people with the highest IQ were not the ones who were consistently successful.
In the past decade, research has focused on a new factor that seems to influence success in all areas of life more accurately — EQ, or emotional intelligence. This is the somewhat intangible personal metric through which we navigate relationships and manage our behavior in order to achieve positive results. To put it in terms of human development, toddlers and teenagers generally have low EQ, while 8-year-olds tend to have higher EQ. The effects of EQ are so strong in the adult world that, according to Ladders, 90 percent of top performers have consistently high emotional intelligence.
The good thing about EQ is that, unlike IQ, it can be developed and improved. But how do you know what your EQ is, and how do you improve it? Well, there's one simple (but difficult!) place you can start — the way you form opinions and defend them, which Ladders recently included in their list of 11 traits of low EQ to watch out for.
You make assumptions quickly and defend them vehemently. People who lack EQ form an opinion quickly and then succumb to confirmation bias, meaning they gather evidence that supports their opinion and ignore any evidence to the contrary. More often than not, they argue, ad nauseam, to support it. This is especially dangerous for leaders, as their under-thought-out ideas become the entire team's strategy. Emotionally intelligent people let their thoughts marinate because they know that initial reactions are driven by emotions. They give their thoughts time to develop and consider the possible consequences and counter-arguments. Then, they communicate their developed idea in the most effective way possible, taking into account the needs and opinions of their audience.
When I was in high school, I loved to argue. I would gather all the evidence I could possibly find to prove to my point and ultimately invalidate the other person's argument. Arguing was basically my favorite sport, one that I poured myself into wholeheartedly.
The problem was that I never actually considered the opposing point of view, nor did I consider the person making it. I wanted to prove myself right by proving them wrong — but I wasn't interested in finding out whether or not I was, in fact, right.
It took years of college and post-college life for me to begin to realize that my opinions, beliefs, and even emotional responses weren't always right. It took a lot longer than that to begin to understand that even if I was positive I was in the right, making an argument was pointless if I was doing it to win.
Trying to win an argument just for the sake of winning is a low-EQ move. It's all about self-validation, particularly if a significant motivating factor in wanting to win an argument is wanting to see the other person lose. While it's much more difficult (and emotionally taxing) to engage in an argument where you first try to listen and understand the opposing argument, genuinely attempting to understand what the person believes and feels and why, it's also an effective way to begin to develop your emotional intelligence.
So whether you find yourself arguing with a spouse, a child, a friend, a coworker, or a stranger on the internet, next time try and listen to their perspective without offering your own in response. Sit with their words for a while. Let them marinate. Unless they are verbally and emotionally attacking you, their words aren't a battle cry. Put down your defenses and let yourself experience the discomfort of emotional stretching and growing.
And when you do come back to them, try and present your argument in a way that takes them into account. Let them see that you've taken the time to really understand and internalize what they've said, because it's a way of showing them that you care. And when you get right down to it, emotional intelligence really boils down to just that — caring about other people at least as much as, if not more than, you care about yourself.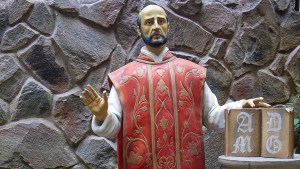 Read more:
4 Ways St. Ignatius can help you grow in emotional intelligence