Practical experience on how to succeed -- or at least improve your chances.
What can God do in your life with one Bible verse a day?
Subscribe to Aleteia's new service and bring Scripture into your morning:
Just one verse each day.
Click to bring God's word to your inbox
The Internet has affected most aspects of our lives, directly or indirectly. We use these new technologies to find everything from health information and humorous memes to groceries, or even a future spouse. I asked four women — Ewelina, Asia, Kamila, and Magda — to share their experience with online dating sites and to give advice based on their successes and failures. Read until the end for a story with a happy ending…
Be authentic and specific
Ewelina has been using online dating services for two years. Early on, she was very cautious. She felt uneasy about opening up her account, so she wrote very general descriptions, like the fact that she likes to read good books and dance. Now, from the advantage of hindsight, she considers that a mistake.
"If you want to meet someone who has similar values and interests, you have to be open about your own values and passions. Once I changed my profile to say that I take Irish dance classes and love books by Ursula Le Guin, men started to contact me. I think that information was a good conversation starter," Ewelina says. Those contacts started to lead to dates.
It's easy to create and forge reality on the internet — to hide, or portray yourself as someone different from who you really are. Maybe it's out of fear or uncertainty, or maybe you're afraid of being criticized, laughed at, or judged. But I encourage you to be authentic. Open a part of yourself when you set up your profile. Write about what is important to you, write about your interests and passions. Proceed carefully, but dare to be authentic.
Push for a meeting offline
Asia has had her profile online for 18 months. She thinks it's important to push for a meeting in real life, to avoid getting dragged into weeks or even months of email exchanges.
"In the beginning, I was excited by that kind of correspondence and it made me feel like something was happening. But emails don't fully show what the other person is like. It's easy to create a false image of the person. The longer you spend only corresponding by email or texting, the greater the difference between your image of the person and the actual, real person. I found that sometimes after long and intense email exchanges, an in-person meeting left me disappointed. The reality was so different from my expectations and from the ideas I had created based on the emails, that I didn't feel comfortable in that face-to-face meeting. I assume the other person probably felt the same. So now I cut the correspondence short and if after a few emails there is no suggestion of a meeting, I myself take the initiative," Asia says.
Assume good intentions, and ask for clarifications
Misunderstandings are easy to come by in email correspondence. The written word is not accompanied by signs of emotion, such as facial expressions or tone of voice. It's easy to misinterpret neutral words as criticism or an attack. Kamila points out those particular details.
"I sometimes get an e-mail that bothers me. I try not to reply when I am emotional. Often, when I re-read the email later, I notice that there may be a different intention behind the words than what I'd thought at first. Now when I don't understand something, or something upsets me, I assume good intentions and ask the author what he really meant."
Don't be discouraged by failures
After two years of using dating services, Magda felt discouraged and wanted to give up.
"Only non-serious guys seemed to contact me. They declared their wish to have a lasting relationship, but they acted like they were playing a game, not really thinking about starting a family. I was getting more and more frustrated. I was trying to figure out if something was wrong with me, if this is the type of guys I attract. When I lost all hope, my current husband contacted me. He referred to my interest in theater and literature. We met in person pretty quickly and it felt just as good talking in person as it did online. Now we are married! If I were to give any advice, I would just say, don't be disappointed by failure. The path to marriage is sometimes difficult and frustrating, but it's good to be patient and persevere. You never know when things will change."
Read more:
Dating online: How Catholics find love on the Internet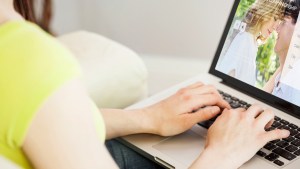 Read more:
4 Online dating tips if you're seeking a serious relationship