Researchers have identified a physical connection to marital spats.
What can God do in your life with one Bible verse a day?
Subscribe to Aleteia's new service and bring Scripture into your morning:
Just one verse each day.
Click to bring God's word to your inbox
Arguments are a natural part of marriage. Spouses are inevitably going to disagree and those points of contention need to be properly hashed out. The keyword is properly, because often arguments cease to be opportunities to understand one another better and instead become ugly quarrels marked by bitterness and aggression. This type of argument is devastating to a marriage and, as scientists at Ohio State University recently discovered, it's even detrimental to a person's physical health.
"Couples who have hostile spats are more likely to suffer from leaky guts," the New York Post reported, going on to explain that this ailment, "makes the walls of the intestines more permeable, which allows gut bacteria to seep into other parts of the body and can lead to inflammation."
This fascinating discovery was made at the Ohio State University Wexner Medical Center, where researchers took blood samples from 43 couples. The pairs were then "encouraged … to discuss and try to resolve a conflict likely to provoke strong disagreement," EurekAlert! Science News explains. "Touchy topics included money and in-laws." The discussions were recorded and researchers then watched and assessed them for hostility, paying close attention for things like criticism or nonverbal reactions such as eye-rolling. Lastly, blood samples were taken again post argument.
Amazingly, the couples whose arguments involved more aggression and spitefulness "had higher levels of one biomarker for leaky gut — LPS-binding protein — than their mellower peers." These findings are actually consistent with past research that has indicated "that marital discord can slow wound healing and drive up risk for inflammation-related diseases, including depression, heart disease and diabetes."
"Marital stress is a particularly potent stress," the study's lead author Janice Kiecolt-Glaser acknowledged, "because your partner is typically your primary support and in a troubled marriage your partner becomes your major source of stress." 
More than anything, the discovery emphasizes the importance of learning to address disagreements with openness, mercy and patience, not sinking to levels of condescension and criticism or assuming the worst of one another. After all, we did vow to honor each other all the days of our lives, right?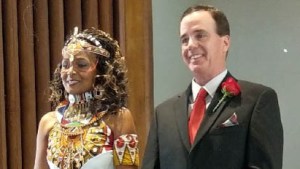 Read more:
How my son's wedding showed me that 'one, holy, catholic and apostolic' perfectly describes the Church