So much of mommying is about non-measurable accomplishments. And then there are those that exist on an entirely different plane ...
What can God do in your life with one Bible verse a day?
Subscribe to Aleteia's new service and bring Scripture into your morning:
Just one verse each day.
Click to bring God's word to your inbox
I once saw a Facebook meme that in the moment, quite painfully, summed up my life all too well: A bedraggled mother with bleary-eyed toddlers hanging on her with the following caption floating above their heads – Working hard, accomplishing nothing …
No, I didn't "like and share" that one because while I could relate to it in part, it also deeply offended me – as any lie should.
"Did that mother pray for her children," I wondered as I walked away from the screen. "If she did," my inner dialogue continued, "then she did accomplish something – something profound."
"Did that mother feed and nurture and take to the park and push on the swing and look in the eye and listen to the dreams of those children?"
Hopefully. Or perhaps she ignored her kids for hours while they ate corn dogs and watched brainless TV – I bet that's what mine were doing while I was pondering the meme in question.
But regardless of the level of momming I was performing that day, the meme irked me and here's why: We can't measure the graces that flow through us (specifically the graces of motherhood in my case) the way we can measure other accomplishments. We can't always see grace. We can't stack it up in a dishwasher, color-code or calculate graces on a spreadsheet …
But what if we could?
The Baltimore Catechism recognizes two types of grace: sanctifying, which is a state of being or a "habit dwelling in the soul; a sharing in the life of God Himself," and the other – actual grace, the one I'm talking about – as "a divine impulse moving a person to perform acts above his natural powers, or the supernatural help of God which enlightens the mind and strengthens the will to do good and to avoid evil."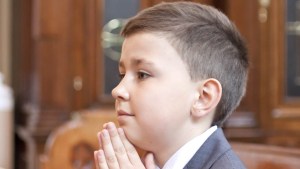 Read more:
How one mom got her priest on board to make confession a family-friendly affair
As a wife and mother, it's my hope that my primary function in life is to be a channel of this actual grace in the life of my family. So why is it that I readily give myself a pat on the back for washing five loads of laundry or getting my kid to the orthodontist or organizing a closet full of stupid hand-me-downs, but I don't sense the same sort of accomplishment after prayerfully carrying a fussy baby on my hip during the endless purgatorial hours after supper? [Note: Quite often, "prayerfully" means, "Dear God, get meto bedtime …"; also, that fussy baby has an immortal soul, whereas my spooky Bermuda Triangle storage closet just has mountains of ill-fitting, mothball-stinked trousers.]
But those trousers got me thinking the other day as I shooed away kids to awkwardly shuffle around several Smart Car-sized storage bins …
What if – just what if – I could mentally fill these bins at the end of the day with all my – even half-baked – attempts at grace?
What if I could snatch a moment, a conversation I had with my 12-year-old about the importance of being inclusive at the playground and toss it in a laundry basket along side another merciful moment – the growl I swallowed when my husband unfairly accused me of misplacing his keys because "a gentle answer turns away wrath" (Proverbs 15:1)?
What if I could collect all these gracious moments exercised by my family throughout the day and then lay in bed at night turning them over in my mind's eye, delighting in them as the wonders they are? What if I could tuck my kids into bed at night and encourage them with the times I caught them choosing grace that day? Well, lately, this idea of finding accomplishment in manifested grace has turned into a nightly habit – one I highly recommend.
"Hey Buddy," I whispered to my 10-year-old last night, "I was so proud of how you let your brother use your bike today without me even asking."
Seriously, a squabble averted is a huge accomplishment. Listening to the happy play of my children while I make supper – well that's a slice of heaven.
One more thing about that nasty Facebook meme – let me tell you just what a mom with fussy toddlers hanging onto her limbs has actually accomplished at the end of any given day (even a cold cereal for supper kind of day) – a whole lot.
While I've referred to this mother's nurturing attention in terms of being a channel of actualgrace, there's a wide body of scientific evidence, such as this study from the Nationwide Children's Hospital in Ohio, that confirms my point (specifically about the importance of physical contact with newborns): It's nothing short of vital to cuddle your babies! The early brain development [that occurs from frequent parental touch] will impact their future learning and social development" [in countless ways].
And this is pretty awesome news for me because I am that bedraggled mother. Plenty of times I have no fancy meal or even a speck of clean laundry to show for my fatigue, yet graces – specific to my vocation of motherhood – have flowed from God through me to my family, resulting in a peaceful, albeit imperfect, home.
While I can't see or measure those graces like loads of folded laundry in pretty baskets or a net worth increase on a spreadsheet, it's not because their value is nonexistent – but because their value is without measure.
Read more:
This patroness of mothers and families is proof that marriage is a path to sanctity