Advice from St. John Chrysostom, who understood what it took to remain true to a vow.
What can God do in your life with one Bible verse a day?
Subscribe to Aleteia's new service and bring Scripture into your morning:
Just one verse each day.
Click to bring God's word to your inbox
Whenever I meet an older couple, I ask how long they've been married. I'm fascinated by how their lives have melded into one, long, happy shared experience. Perhaps what is so heartening is seeing how, not only are they still together, but they're still very much in love. I have a parishioner, for instance, named Edith, whose husband recently had to be admitted to a retirement facility. She visits him every single day from mid-afternoon until bedtime. Because of his declining health, he almost never speaks, but they sit next to each other in silence for hours. They cannot and will not be apart. This is true love.
This type of love, says St. John Chrysostom, "is the force that welds society together." The love of husband and wife is a bond stronger than death. Marriage and love are delicate, though, and the bond can be easily severed if we don't nurture it.
John Chrysostom, a saint who lived in the 4th century, was never married. As a priest, though, he understood the commitment and faithfulness required to remain true to a vow. Over his lifetime, he preached a number of homilies containing practical advice for married couples on how to form a lasting bond with one another.
Collected in a book called On Marriage and Family Life, his words are a wealth of wisdom. I noticed as I read it that all the marriage issues back then are still the same today — philandering spouses, excessive wedding receptions, selfishness, unfair criticism, and broken households. I expected that Chrysostom's advice would be stilted and irrelevant. After all, he was a celibate man from a different era, but it turns out that his views on love, marriage, and sexuality are optimistic and uplifting.
Here is some of his advice for married couples on how to form a lasting bond …
Pray together
Chrysostom writes, "Pray together at home and go to church." Pretty straightforward, right? Maybe not, because it is well known that men frequently decline to attend church. The reasons for this are anyone's guess, but the point is that when men fail to participate with the rest of the family in prayer, it creates a risk factor that stresses the relationship. Praying together creates unity, reminds us that God cares about our marriages, and provides a positive outlet to address any friction in the family.
Maintain chastity
Wait, what? Don't confuse chastity with celibacy. Chastity doesn't mean avoiding a sexual relationship, it means that husbands and wives are faithful to one another and treat each other with respect. Chrysostom teaches that, once we're married, our bodies "belong" to our spouses. Chastity is the key that unlocks the joy of physical intimacy, and he wants everyone to know about it. In one sermon, he actually chastises his listeners for blushing about his open and positive appraisal of sex within marriage. To him, this is nothing to be embarrassed about or to keep secret. It is part of the happy bonding of the married couple.
Don't obsess about the wedding reception
Chrysostom says, "Camels and mules behave more decently than some people at wedding receptions!" Some things never change. Even in his day, wedding receptions were out of control. He notes that a marriage is not about a drunken party, it's about a lifetime together. An excessive wedding reception starts a marriage off on the wrong foot because it focuses on fancy dresses, dancing, and alcohol instead of looking forward to a lifetime together. Have a great time and enjoy the wedding and the party, he says, but don't go overboard. I don't know if the phenomenon of the party bus existed back then, but I'm sure he would've hated it.
No unfair reproaches
Sometimes we have to be honest with our spouses even if it means being critical. "Always begin by telling her now much you love her," says Chrysostom, "Tell her that you love her more than your own life." Always balance the reproach with a positive declaration of love, that way your spouse knows that you love her above all things and nothing would be more painful than being at odds with each other. A declaration of love is a reminder that even when arguments happen, it's not to attack each other but is so a resolution can be discovered.
Love each other even when neither one of you deserves it
We don't always deserve to be loved. There are times when we're unfair, short-tempered, or aloof. Mistakes are made and it's all-too easy for two people to hurt each other. Chrysostom says, "Even if you see her belittling you, or despising and mocking you, still … Suffer anything for her sake." Love isn't earned. It's a gift we give to each other even when we don't deserve it. Eventually, a spouse who patiently loves even through the hard times will see that love reciprocated.
Husbands and wives go through a lot together, but the bond of marriage is stronger than any trouble that might attack it. With a bit of hard work and a lot of love, someday we can all be like those happily married couples we occasionally meet who are celebrating 40, 50, 60 plus years.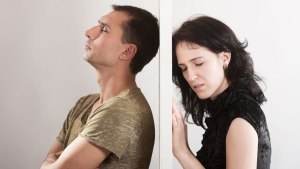 Read more:
The ultimate marriage advice