Between cyber-bullying, the constant pursuit of perfection, and terrorist alerts, today's kids have more to contend with.
Need an idea for Lenten almsgiving?
Help us spread faith on the internet. Would you consider donating just $10, so we can continue creating free, uplifting content?
Make a Lenten donation here
Remember getting butterflies in your stomach on the first day of a new school year? And all those questions that had been buzzing around in your head during a sleepless night: Was your teacher going to be nice? Would you be in the same class as your friends? Did you have all the required school supplies? Was the outfit you picked out stylish enough, and would your friends laugh at that new pimple that chose this very moment to appear on your forehead? Total stress.
Don't forget we also had to keep up with the latest gadget — the need for a Rubik's Cube, or for our younger readers, a Tamagotchi. By contrast, today's school kids have to consider the absolute "need" for far pricier technological goods like smartphones and tablets.
And that's not the only difference. This generation of school kids has to face even more stressful problems that can lead to dire consequences: cyber-bullying, school shooter drills, terrorist alerts, and the constant pursuit of perfection.
As a parent, preparation is key. Take the time to prepare your children for what's to come, encourage communication, and most importantly, listen to their concerns with kindness and understanding.
Social networks, where perfection reigns
Back in the day, actresses and models were our guide to physical perfection, but nobody at school looked anything like them. Today however, thanks to filters, make up, and digital touch-ups, some of the photos adolescents post on Instagram seem straight off the catwalk. This can give others a huge feeling of inadequacy and inferiority that can translate into a real angst. The search for social approval, in physical perfection and popularity, leads to unhealthy competition that can prove fatal if we don't encourage our kids to take a little step back.
Soon, the day will come when your child will be setting up their own Facebook profile, Snapchat, or Instagram account, so take the time to warn them that the vast majority of images they see do not reflect reality in any shape or form. They're just a small moment in time in someone's life. They've undoubtedly been touched-up or manipulated in some way. Whatever you do, don't underestimate social networks as a simple virtual past-time: interactions on the networks have consequences in real life. This is why we need to be attentive to our kids' behavior, remaining vigilant to the amount of time they spend on social networks, and assessing their degree of addiction to the accounts they're signed up on. Ask them questions, and show an interest in what they're reading or posting. In this way, you can help them navigate more surely the twists and turns of the web.
Cyber-bullying or incessant threats
Historically there were always intimidation, insults, and teasing at school. But the minute children got home, that all stopped. Yet, with cyber-bullying — which has increased due to the use of cell phones and social networks — that type of behavior has become permanent, putting a lot of pressure on children. Between humiliating photos, the spreading of rumors, identity theft, group defamation, physical threats, constant pestering, and more, students can be profoundly damaged by such nasty behavior, which can actually be more damaging than a physical attack or having your items stolen. The reason is that this behavior can go on for a long time, often involving a group of kids who relentlessly attack their victim, even when they're "safely" holed up in their room.
Because the child is ashamed and doesn't want to discuss what's going on, they often won't dare broach the problem with their parents — especially as they consider that their parents are stuck in the "dark ages" when it comes to understanding the digital world. This is a contributing factor to an adolescent's solitude, as for the first time in history, the younger generations possess the knowledge and a command, in terms of digital tools, superior to the generation that is meant to be instructing them in its use. The key is to get informed, and to use new technology to understand what your kids are faced with, so that you can come across as pertinent and credible when talking with your child. You'll also be better equipped to spot any cyber-bullying, and be able to react in time. At the same time, it's important to be attentive to any signs that might hint at this type of bullying: a drop in school grades, disinterest, stomach or head aches, loss of self-esteem, increased angst, loss of appetite …
Terrorism and other dangers
Long gone are the days where fire drills were taken lightly! As soon as they enter kindergarten, children have to get used to intruder alerts, in case an individual accesses the establishment with sinister intentions. For us, a drill was mostly an excuse to skip the last 10 minutes of class, but today's kids have to learn to barricade themselves in a class and hide in cupboards, or under desks, while keeping as silent as possible.
And there's no use lying to our children. In case of an attack, it's important to tackle the issue of terrorism and mass shootings, and the different measures the school has in place to protect them. If parents don't address this issue, their children's classmates will happily fill them in with a few more gruesome details added for good measure. Psychologists recommend giving children a sense of reality, while taking into consideration their sensitivity and their ability to understand such complex and broad subjects. Of course the way you address the topic will differ depending on the child's age, but in any case, the fact of giving a broad outline, without going into all the details, will allow the child to ask further questions and permit parents to give appropriate answers. It's important deal with these issues truthfully, and in general terms, while taking into account the child's temperament and intelligence, as well as the questions raised.
This naturally leads to questioning they way we live, carrying on while knowing that a tragedy can happen at one moment or another. How do we pass on a minimum of serenity to children in such conditions? Of course we can turn off the TV, but also we can draw on the hope that God will give us eternal life. As French psychologists Bernadette Lemoine and Véronique Lemoine-Cordier say: "The believer stands ready! By radiating love, by continuing to express their confidence and remembering that the ultimate goal is eternal life, and not the comfort and tranquility of life on Earth."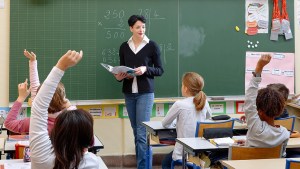 Read more:
Back to school and back to work, but Christ is our classmate
Read more:
Back to School Tip for Moms and Dads