This father of 8 children is open to more.
Los Angeles Chargers football player Philip Rivers astonished reporters and the world of sports this past fall when he said he and his wife hoped they had more children. The thing that shocked many people about this statement? At the time of the interview he'd already been blessed with eight beautiful children.
Now, make that nine…. Rivers and his wife, Tiffany recently announced they are expecting their ninth child.
Rivers and his family are devout Catholics — he and Tiffany are junior high-school sweethearts who married when they were 19 and 18, respectively. They have six girls and two boys ranging in age from 16 to almost 3 years old, and are completely open to life.  
During an interview with sports talk host Dan Patrick, the reporter asked Rivers if he and his wife were done having children. The quarterback responded, "Heck no! I hope not." Seemingly in disbelief, Patrick said "I should talk to your wife. Does your wife know that you want to have more?"
Confidently, the quarterback affirmed the couple's mutual stance on life and having more babies, saying, "Oh yeah, she's all in!" Rivers went on to describe a little about how the family functions — saying that since the three oldest children are girls, there are lots of extra hands to help with the younger children, and that having so many children is "awesome."
Rivers has been outspoken about his faith before, and where he said, "My faith has always been very important to me. When I went to college is really when it became my own. I had to get up out of that dorm room and go to church, go to Mass on Sunday. That's when I took ownership of my faith."
Later on, in the same interview, he boldly affirmed that the success of his marriage and family has been due the fact that his and Tiffany's relationship has been built on the foundation of a relationship with Jesus.
As the interview closed, Rivers added, "I hope that God has used me to touch one of you in your faith journey with Jesus."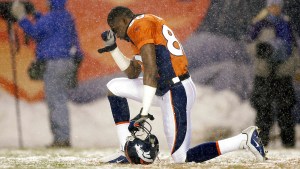 Read more:
NFL columnist believes faith in God is biggest under-covered story in football