The dark arts are real and can put a soul in danger.
While pop culture paints wizards, witches and warlocks as fun, relatable characters, what many do not realize is that the world of the dark arts is real. There do exist witches, warlocks and wizards and they do cast spells, study potions and practice magic.
It's not fantasy, it's reality.
The witches of America
A documentary was released recently that followed the lives of modern-day witches in America and discovered "Many witches keep their magic lives quiet and prefer to remain in the 'broom closet,' coming out only to friends and fellow believers. Morpheus, for instance, is the alias used throughout the report for a woman whose day job is with the federal government. But she is also a respected Bay Area priestess who sings to the moon, and who dragged crushingly heavy stones down dirt roads to build a henge to The Morrigan, the Celtic goddess of war."
There are about one million Americans who practice "paganism" and self-identify as  "witches" and who "practice a nature-worshiping and polytheistic religion, which has its own rites and rituals."
According to an article in Cosmopolitan, "Witches do gather in a circle to perform rituals, sometimes outdoors, under the moon. They use wands and ritual daggers (or athames) to guide magical energy in the right direction; they chant, sometimes in ancient languages. Depending on the specific tradition a person trained in, they may also practice magic while 'skyclad,' or in the nude."
They do perform "hexes" and worship multiple gods, but a true "witch" is not a worshiper of the devil. Around Halloween time, witches celebrate Samhain and "hold particularly intense rituals, evoking people who have passed away and hoping to receive a message or help from the other side."
Witches are both male and female and the term "warlock" is not currently used and is often seen as a derogatory term. However, some male witches do use the term and are trying to reclaim it.
Wizards
Many modern-day wizards study the "dark arts," also known as "black magic," while others prefer "white magic." Black magic in particular is closely associated with Satanism and includes invoking demons and evil spirits and hexing or cursing other people. The widely known "Black Mass" is associated with this type of magic and is an inversion and sacrilegious parody of the Traditional Latin Mass.
Read more:
What is a "Black Mass"?
The purpose of practicing this type of magic is to gain knowledge or power over the created realm and to manipulate things or events for personal gain.
The problem with practicing magic
The Catholic Church has been extremely clear that Catholic cannot dabble in the spells or enchantments of witches, warlocks and wizards:
All practices of magic or sorcery, by which one attempts to tame occult powers, so as to place them at one's service and have a supernatural power over others – even if this were for the sake of restoring their health – are gravely contrary to the virtue of religion. These practices are even more to be condemned when accompanied by the intention of harming someone, or when they have recourse to the intervention of demons. Wearing charms is also reprehensible. Spiritism often implies divination or magical practices; the Church for her part warns the faithful against it. Recourse to so-called traditional cures does not justify either the invocation of evil powers or the exploitation of another's credulity. (CCC 2117)
Magic seeks to take matters into the wizard's or witch's own hands and denies God's providential care over all creation. It is harmful to the soul and plunges a person into a great darkness that is hard to overcome. Even more troubling, practicing the dark arts can open a person up to the demonic, who is constantly trying to lead souls away from God.
Thankfully, many witches and wizards have found Christ and were saved by his great mercy.
Just remember this Halloween season, witches, wizards and warlocks are real and the more a person delves into the dark arts, the farther away they drift from God.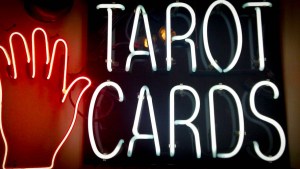 Read more:
Tarot cards: The dark truth behind the popular trend
Read more:
Satanic priest turned saint, Bartolo Longo is proof that no one is too lost to be found