St. John Bosco's dear friend died and returned from the grave to fulfill a promise.
Often we will hear "ghost stories" around the campfire, and for the most part these are fictional tales told to entertain children. However, sometimes they are real, as is the case of St. John Bosco and his friend Louis Comollo.
Bosco wrote about an encounter he had with the deceased Comollo in his Memoirs, an experience he never expected would happen.
Given our friendship and the unlimited trust between Comollo and me, we often spoke about the separation that death could possibly bring upon us at any time.

One day, after we had read a long passage from the lives of the saints, we talked, half in jest and half in earnest, of what a consolation it would be if the one of us who died first were to return with news about his condition. We talked of this so often that we drew up this contract: "Whichever of us is the first to die will, if God permits it, bring back word of his salvation to his surviving companion."

I did not realize the gravity of such an undertaking; and frankly, I treated it lightly enough. I would never advise others to do the like. We did it, however, and ratified it repeatedly, especially during Comollo's last illness. In fact, his last words and his last look at me sealed his promise. Many of our companions knew what had been arranged between us.

Comollo died on April 2, 1839. Next evening he was solemnly buried in Saint Philip's Church. Those who knew about our bargain waited anxiously to see what would happen. I was even more anxious because I hoped for a great comfort to lighten my desolation. That night, after I went to bed in the big dormitory which I shared with some twenty other seminarians, I was restless. I was convinced that this was to be the night when our promise would be fulfilled.

About 11:30 a deep rumble was heard in the corridor. It sounded as if a heavy wagon drawn by many horses were coming up to the dormitory door. It got louder and louder, like thunder, and the whole dormitory shook. The clerics tumbled out of bed in terror and huddled together for comfort. Then, above the violent and thundering noise, the voice of Comollo was heard clearly. Three times he repeated very distinctly: "Bosco, I am saved."

All heard the noise; some recognized the voice without understanding the meaning; others understood it as well as I did, as is proved by the length of time the event was talked about in the seminary. It was the first time in my life I remember being afraid. The fear and terror were so bad that I fell ill and was at death's door.

I would never recommend anyone to enter into such a contract. God is omnipotent; God is merciful. As a rule he does not take heed of such pacts. Sometimes, however, in his infinite mercy he does allow things to come to fulfillment as he did in the case I have just described.
God allowed such an encounter for a purpose, likely to remind Bosco of the reality of the afterlife and to urge him on in the practice of the faith. While we may never see a ghost in our lifetime, let us never doubt the existence of Heaven, Hell and Purgatory and live our lives as though they do exist.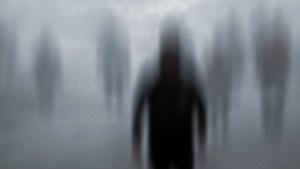 Read more:
Everything you need to know about ghosts
Read more:
I think my house is haunted. Should I call a priest?