But we can use this knowledge to help mitigate and heal the effects of childhood trauma.
The heated political battle currently being waged over immigration has put children front and center in public awareness — namely, the trauma that children suffer when they are separated from their parents.
It's a trauma we don't like to talk about. It makes us uncomfortable for various reasons. For some, it's a trauma they've personally known and experienced. For others, it's a foreign concept, but one we should nevertheless recognize the enormity of.
For children, the trauma of being separated from their parents is not merely limited to an emotional response … in fact, as Medium points out, this type of trauma effects children permanently, at a genetic level:
Young children rely on their parents to help them handle unfamiliar, stressful situations because their ability to regulate their emotional response to change, or threats in the environment, isn't fully developed yet. "Children use parents and familiar caregivers as a way to navigate uncertainty and stress in the world," says Seth Pollak, who heads the Child Emotion Research Laboratory at the University of Wisconsin. "They can't handle things alone the way adults can." So taking young children away from their parents and placing them in a confusing, overwhelming environment leaves them largely unable to cope. "These children are likely having really, really extreme stress, and they don't have a way to bring that stress response down," Pollak says. That sort of trauma, and exposure to large amounts of stress in childhood, is linked to epigenetic changes  —  changes in the way that the body turns genes on and off, and regulates biological processes  —  that can last into adulthood …
Multiple studies have confirmed differences in the activity levels of hundreds of genes of adults who suffered childhood trauma versus adults who did not. Some of those genes control cortisol levels and brain neuroplasticity, but the function of many genes altered by childhood trauma is still unknown. Scientists theorize that these genetic changes could affect everything from growth and development to hormone regulation — but what's certain is that childhood trauma causes measurable physical changes that last well into adulthood.
Personally, I have a tendency to shy away from the gritty details of the effects of childhood trauma primarily because it makes me feel helpless. The sad truth is that there's nothing we can do to wholly prevent children being separated from their parents. There will always be children who are abandoned, or whose parents have been killed. Even children whose parents decide they can't raise them and make an adoption plan for them can suffer effects from that separation. This kind of trauma will always be a reality for someone, somewhere. And the inevitability of the epigenetic changes that result from that trauma seems completely overwhelming.
But it occurs to me that as with everything, it's a matter of perspective. Rather than looking at these studies as hard evidence of an inevitable reality, we can choose to see them as guideposts for a new way forward.
It's true that some children will suffer from this kind of trauma — but it's also true that there's a lot we can do to alleviate that suffering. Being aware of the damage that separation does is the first step, one that just might convince a parent or teacher to embrace a child rather than take flight. These studies might also be the push couples considering adoption need to take that leap — not because they can replace the parents lost or erase their child's past, but because they can help a child heal, and build a new future on new, solid ground.
Perhaps most significantly, these studies can make us aware of the needs of children who have suffered trauma. Whether we're their caregivers, teachers, doctors, or friends, being aware of the physical and mental toll trauma takes on a child can move us to be more understanding, patient, and loving — and love is, after all, what these kids need the most.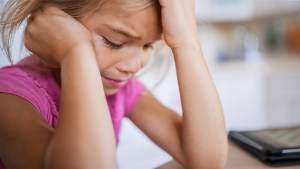 Read more:
How childhood trauma can give us lifelong chronic illness