What started as a joke became the motto of his life.
Need an idea for Lenten almsgiving?
Help us spread faith on the internet. Would you consider donating just $10, so we can continue creating free, uplifting content?
Make a Lenten donation here
Stan Lee was a legend in the comic book industry, co-creating such superheroes as Spider-Man, the Hulk, Doctor Strange, the Fantastic Four, Daredevil, Black Panther and the X-Men, to name a few. He was also instrumental in the recent success of Marvel movies and the resurgence of comic books in pop-culture.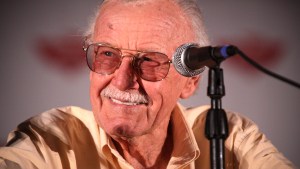 Read more:
Stan Lee, father of superheroes, dies at 95
Upon his death on November 12, his Twitter page recalled a word that he used throughout his life: Excelsior!
November 12, 2018
The Latin word means "ever upward" or "still higher" and he began using it in the 1960s as a sign-off for his columns. Initially, he picked the term to confuse his competition, as he explained to io9.
I used to have a lot of expressions that I would end my comic book columns with: Hang Loose, Face Front, 'Nuff Said, and I found that the competition was always imitating them and using them. So, I said I'm going to get one expression that they're not going to know what it means, and they won't know how to spell it. And that's where excelsior came from, and they never did take up on it, thank goodness.
However, it soon became a motto in the life of Stan Lee, who frequently shouted it at comic book conventions. He expanded on the word in a Tweet in 2010 and said, "Finally, what does 'Excelsior' mean? 'Upward and onward to greater glory!' That's what I wish you whenever I finish tweeting! Excelsior!"
Finally, what does "Excelsior" mean? "Upward and onward to greater glory!" That's what I wish you whenever I finish tweeting! Excelsior!

— Stan Lee (@TheRealStanLee) November 9, 2010
Stan Lee grew-up in a Jewish family and wasn't a religious man, but he did have a respect for the Bible and a keen interest in Catholicism, as can be seen by the many Marvel superheroes he created with a Catholic background.
Yet, it was likely that Lee first saw the word in the New York state motto, which was voted as part of the state's coat of arms in 1778. In this context the word is focused primarily on the temporal accomplishments of humanity, with the desire to go "ever upward" in achievements.
From a Catholic perspective, the word and similar variants have a distinct reference to God and the afterlife. Blessed Pier Giorgio Frassati used a similar Italian phrase, "verso l'alto," which means "toward the top." For him it represented the desire to aim toward the height of sanctity, reaching for the summit of eternal life.
Similarly, the Society of Jesus has as their motto the Latin phrase "Ad maiorem Dei gloriam," which means "For the greater glory of God." This means that all things should be done for God's greater glory, not seeking earthly achievements, but heavenly grace.
It's interesting to note how Stan Lee described "Excelsior" as "Upward and onward to greater glory!" — while he likely meant earthly glory, it is easy to adapt the phrase to refer not only to hard work on earth, but also to the greater glory of Heaven.
Catholics are also familiar with the word, as a form of it appears in the "Gloria," a hymn that has been sung for many centuries. It quotes the biblical words of the angels on Christmas Day, who said, "Glory to God in the Highest" (Gloria in excelsis Deo).
While Lee's Latin catchphrase began as a joke to rile his competition, it became a motto that brought out the best in people he worked with and challenged them to go "ever upward."
For Catholics, that is a worthy motto, one that can drive a person to new heights in the spiritual life, propelling them to the glory of Heaven.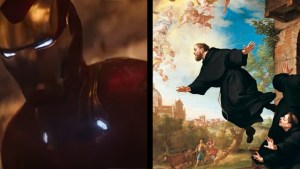 Read more:
If Marvel's Avengers were saints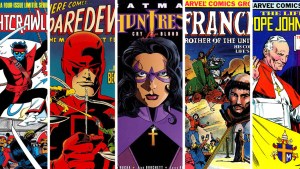 Read more:
POW! 5 Catholic comic book heroes