These simple habits will ensure you're in the right frame of mind for the whole day.
Do you ever feel overwhelmed at the thought of the day ahead before you even get out of bed?
To get a better grip on the day and accomplish your to-do list, it helps to wake up early. We've all heard the expression: "Early to bed and early to rise makes a man healthy, wealthy, and wise." While this may be true, you don't have to resort to extreme schedules like Mark Wahlberg, whose routine starts at 2.30 a.m. You just need to be sure you have the time you need to take care of yourself — your body and your soul. You need to start the day focused on what is essential for you.
To help you on your way, here are four easy habits to adopt on a daily basis that will help you maintain calm and focus in the morning —  and throughout the entire day.
Submerge yourself in silence
There's nothing better than starting the day before other family members wake up. First, take 10 minutes for the most essential person in your life — God.
Praying in silence is a bit like being able to reset your mind and heart. It's also the occasion to find yourself and to catch your breath — that same breath that calms your interior noise so you can taste the sweetness of silence. Clear some space for yourself, breathe slowly and deeply, and submerge yourself into quiet, like a submarine lowering into the depths of the sea.
As Dominican brother and author Rémi Chéno explained in his book, Les voies du silence (The Road to Silence), this descent into ourselves helps us to place ourselves in the presence of God. When we understand that this silence is the voice of God Himself, we can taste, love, and savor it.
Take a few moments to listen to this silence of God. It's the most beautiful morning gift you can give yourself for the rest of the day.
Stretch to wake your body up
In the morning, make sure you don't put any sudden strain on your body: wake up all your joints peacefully by giving yourself a few minutes to do a

. To be in good shape, you must wake your body up with small simple gestures, just as daylight gradually enters our room. You can take a soothing shower, or even do a few gentle exercises while still in bed. The aim is to become gently energized through simple stretching.
Have your breakfast in front of an inspirational view
Did you know that around 80 percent of people look at their smartphones within 15 minutes of waking up? Not only does this create an addictive habit, it can also leave people feeling anxious before the day even starts. Who needs to be faced with those "urgent" emails before even getting dressed? It wouldn't cost a dime to sit and contemplate your dreams and your most creative thoughts for just a few minutes, instead. So if it's possible, have your breakfast while looking out on a beautiful view, or in a calm spot of the house. Or if breakfast isn't an option, take two minutes to grab a cup of coffee or tea. Then, soak in this moment fully before the day's chaos begins.
Smile at what life has to offer, and don't focus on its challenges
Instead of thinking about all the challenges that lie ahead, resolve to savor the little bits of happiness that come your way that day. Giving thanks for all the moments that make you happy is not only beneficial for you, but for those around you. There are many scientific benefits to practicing gratitude; including both mental and physical strength, an improvement in self-esteem, and an increase in empathy. Besides, those "thank yous" we say or write serve to make others feel acknowledged and create the opportunity to make new friends.
Through being grateful, we take the focus off ourselves and think about what's most important in life. It encourages us to be happy, and to find pleasure in the small things.You can even keep a gratitude journal where you write down everything you're happy about at night, then take a few minutes to refresh your memory in the morning — you might even have a few things to add to it after a good night's sleep! It's just like a smile — the more you smile, the more life will smile on you. The more you say thank you, the more your daily life will be full of grace.
As with any journey or enterprise, it's fundamental that we start off in the right direction. Applying these four tips can help your day get off to a good start!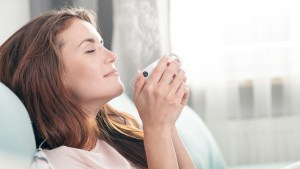 Read more:
Which of these morning routines works best for you?
Read more:
A morning prayer to begin each day with peace and tranquility