We know these weeks will be busy, but let's find a way to cut back somewhere, for just a few moments at least.
You can get Aleteia inspiration and news in your inbox. Our specially curated newsletter is sent each morning. The best part? It's free.
Sign up here
If strip malls and social media are to be trusted, we're already fully into the Christmas season. Halloween candy hadn't even hit the clearance shelves before lights were being strung, and it seems almost everybody put their trees up on Thanksgiving weekend, regardless of the fact that Advent hadn't even begun.
I'm no Grinch. I know that when the world is as dark as it is, we all need extra joy in our lives, and I have no problem with people celebrating the Christ Child all year long—even if that means the Fourth of July is followed immediately by decking the halls. For many, the decorations are a way of preparing to welcome Christ on Christmas, and while I'm inclined to celebrate Christmas for the whole Christmas season (and not before), far be it from me to judge how people rejoice in God made man.
But not at the expense of Advent. Decorate the tree during Advent, eat Christmas cookies, and sing O Holy Night all month long, if you like. But join with the Church in preparing for the coming of Christ, in sitting in darkness and silence in the weeks that lead up to his glorious manifestation in the stable in Bethlehem and to his coming anew in our hearts.
Let Advent be a time set apart, a time to reflect and be still. This Advent, sit with the Blessed Mother as she awaits the birth of her Son.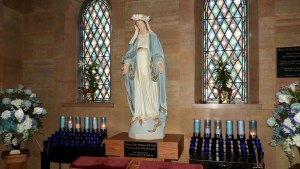 Read more:
How depicting Mary as great with child has brought grace to Missouri
Mary would have been nearing the end of her pregnancy right about now, just about to hit 37 weeks. She was large and uncomfortable and not prone to bustling about. The days were short, so she would have spent many an evening sitting sewing by the light of a dim lamp, telling stories by the fire, or turning in early.
Perhaps in these last weeks she was sewing little clothes for her tiny Redeemer. As Joseph put the finishing touches on his cradle, she was preparing the corner of the room where his blankets and diapers were. She was nesting.
It wasn't all starry-eyed daydreaming about holding her baby, of course. As in every pregnancy (and every Advent), there were some complications, some unexpected demands. She would have had to pack for the journey to Bethlehem, to hoist her heavy body atop a donkey and endure every bump and jounce as her aching ligaments protested this abuse. But that suffering, too, was a gift to the Lord, a way of preparing for him.
We could all stand to keep our eyes on Mary during this Advent season, to find more silence, to spend more time preparing a place for the Lord. Oh, there are family obligations and traditions we'd hate to miss, but what if our priority over these next few weeks was being still with him, pondering his place in our lives as Mary did? What if we took canceled flights and delayed packages and complicated family dynamics not as the ruining of Christmas but the perfecting of Christmas? Every moment of Advent frustration is an invitation to make room for him in our hearts, he for whom there was no room at the inn.
It's easy to spend December moving at double speed, shopping and baking and crafting and wrapping and travelling as if our lives depended on it. But if we're sitting beside Our Lady as she waits for her child to make his way into the world, the bustle of the season begins to seem less important.
So carol and shop and watch every Christmas movie if you like, but make a commitment this Advent to cut back somewhere, to add some silence, some stillness, some time to contemplate the Christ Child. Make room in your life for him as Mary did, and let Advent be a true season of preparation.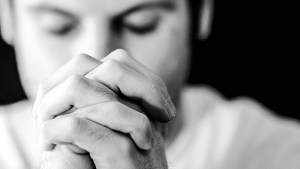 Read more:
Have we been putting this off for 38 years?