Nipping this one habit in the bud can make the difference when it comes to building friendship.
The older I've gotten, the more I've become aware that there actually is an art to conversation …  and very few of us are naturally gifted in it. In high school and college, I used to think I was a gifted conversationalist because I was outgoing, friendly, told stories well, and made friends easily. But it wasn't until I became a mom and transitioned into the world of making adult friendships that I realized that actually, I had no idea how to have a conversation.
I mean think about it — what do most high school and college kids talk about? Their classes, their friends, their sports, the things they have in common. It's easy to have a conversation about things you experience with others. But what do you talk about when you don't have a well of common experiences to draw from?
For many years, I relied on what common ground I could find. So when I met other moms, we talked about our kids and husbands. But there are only so many birthing stories and discipline woes and household-management struggles you can swap before you simply just run out. And once I hit that point with someone (interestingly, also the point where an acquaintance can turn into a friend) I struggled to maintain the relationship. Usually it faded, and I found myself wishing again for magical built-in adult friends.
I wasn't a hopeless case — I did manage to make a few friends over the years. But it wasn't until I went through some intense sales training that I realized what the difference was between the relationships that faded and the ones that stuck and blossomed into friendship. That difference is the key to building any kind of relationship, and it's laid out simply and beautifully in a recent Huffington Post article: talk less about yourself, and listen more about someone else:
Sociologist Charles Derber describes this tendency to insert oneself into a conversation as "conversational narcissism." It's the desire to take over a conversation, to do most of the talking and to turn the focus of the exchange to yourself. It is often subtle and unconscious. Derber writes that conversational narcissism "is the key manifestation of the dominant attention-getting psychology in America. It occurs in informal conversations among friends, family, and co-workers. The profusion of popular literature about listening and the etiquette of managing those who talk constantly about themselves suggests its pervasiveness in everyday life." Derber describes two kinds of responses in conversations: a shift response and a support response. The first shifts attention back to yourself, and the second supports the other person's comment. Here is a simple illustration: Shift Response Mary: I'm so busy right now. Tim: Me too. I'm totally overwhelmed. Support Response Mary: I'm so busy right now. Tim: Why? What do you have to get done?
During the sales training where I learned this distinction, I felt a creeping sense of recognition. For years I had operated on an instinctive story-swapping model of conversation, one where I basically took turns talking with another person about similar experiences or feelings. It was only in relationships where I had invested the time and effort of listening and supporting a friend through a difficult time that the relationship had deepened into friendship — and sadly, I usually only remained silent because my friend was going through something I was utterly unfamiliar with.
Like the author of the article, I didn't do this out of malice — my intentions were good. I believed that by offering a story of a similar experience, I was being empathetic by showing that I understood and could relate. But the more I thought about it, the more I realized that when I was on the opposite end of this type of exchange, I didn't feel understood or empathized with. At best, I felt slighted — at worst, I felt ignored. The best conversations I could remember with friends were ones where my friends had listened, asked questions, and really made an attempt to understand and tease out my feelings, rather than offer me theirs.
It seems silly that it took an intensive course in sales training for me to learn how to have conversations that build good relationships, but it's true. Since then, I've only grown more aware of all the areas in which I need to talk about myself less and listen more, and they go way beyond sales. Friendships, professional relationships … even my relationships with my children have benefited from my recognition that sharing my experience isn't the way to be supportive and empathetic. The only real way to support the people I love in conversation is to let them talk, and to simply listen.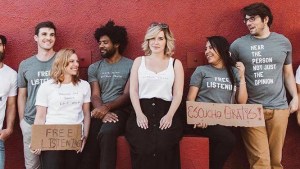 Read more:
"Free Listening": The art of listening